Khalistani terrorist Amritpal finally arrested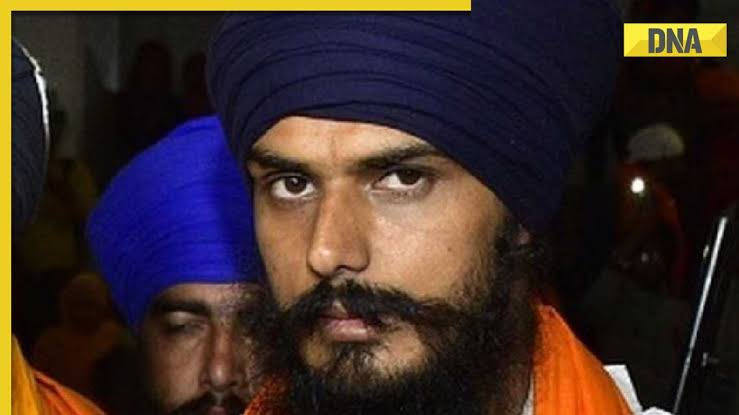 Amritpal Singh, president of Khalistani outfit 'Waris Punjab De' has been arrested from Nakodar by the Jalandhar police along with more than 10 of his armed companions after a hot chase of over 2 hours today afternoon. It was a joint operation by the Punjab police and the central agencies.
According to police sources, he has been named in two FIRs pertaining to the bloody siege of Ajnala police station on February 23 in which 6 policemen were injured including an SP.
Internet services have been snapped in Punjab till 12 pm tomorrow as per an official announcement. But the areas of Punjab adjoining Chandigarh continue to get internet services.
Jallukhera, the native village of Amritpal in the Amritsar district has been sealed by the police and a massive search operation is underway. Amritpal and his men control and operate from a Gurdwara in the village. He has been mixing his Khalistani agenda with religion and camouflaging it under an anti-drug campaign and a drive to baptise Sikh youths.
The FIRs have been registered after an in-depth analysis of the videos circulated on social media and a forensic study of other available evidence. After a lot of criticism in the media and public outcry, Chief Minister Bhagwant Mann assured that action would be taken after collecting unflinching evidence against the rioters.
Amritpal and his gang had mobilised youths to organise a dharna in front of Ajnala police station to secure the release of one of his companions who was arrested for the kidnapping and thrashing of one Varinder Singh.
Notably, on February 21, Amritpal Singh gave a veiled threat to Home Minister Amit Shah saying that the latter will have to face a similar fate as that of Indira Gandhi. "Indira tried to suppress, what happened? Now Amit Shah can fulfil his wish and see", he said reports OP India.
'Waris Punjab De' was founded by a radical leader Deep Sidhu, an actor-turned-activist. He gained popularity among Khalistani elements during farmer protests when he tried to hijack the farmers' movement. Sidhu died in a road accident in February 2022 in Haryana when he was travelling with his American girlfriend Reena Rai.
Amritpal Singh took over 'Waris Punjab De' shortly after Sidhu's death. He was earlier living in Dubai and had returned to India in mid-2022. He started wearing attire like that of Jarnail Singh Bhindrawale, the slain militant leader and declared that he would complete his unfinished dream of forming a separate Sikh state.