Maldives' Muizzu marches to victory on anti-India drumbeat
However new pro-China president is likely to work with both New Delhi and Beijing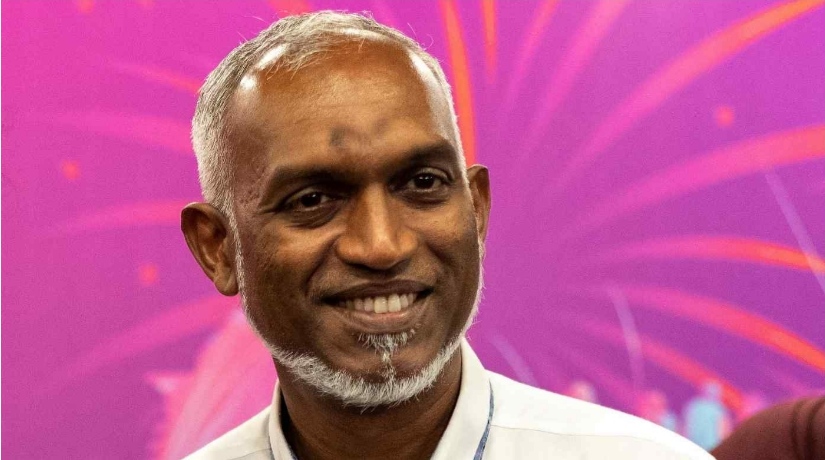 Mohamed Muizzu, winner of the Maldives' presidential election, smiles after a news conference in Male on Sept. 30.
The Maldives election result had been foreshadowed by opposition candidate Muizzu's surprising performance in the first round on Sept. 9, when he led the pack of eight contestants with 46% of the vote. President Solih trailed in second place, at 39%, despite being the front-runner in opinion polls.
Finally Maldives' opposition candidate Mohamed Muizzu triumphed in Saturday's presidential election, winning over voters with two broad campaign themes: that incumbent President Ibrahim Mohamed Solih had failed to deliver on his clean government pledges, and that his pro-India leanings had undermined the country's sovereignty.
Muizzu's victory, with 54% of the vote, is widely "perceived" as a loss for New Delhi and a win for Beijing, which now appears to have an opportunity to regain its foothold in the strategically situated Indian Ocean archipelago. Well this will be more of economic foothold but certainly not Military foothold like at Gwadar in Pakistan Occupied Baluchistan,
So while Muizzu is known as pro-China, South Asian diplomats based in the capital say that his style may lead to a balanced diplomatic tone rather than a strident one. "Maldivians feel that [Muizzu] would be able to keep Maldives on an even keel, moving away from Solih's 'India first' policy," saud one senior envoy on condition of anonymity.
Muizzu said after his victory that voters had chosen to "win back Maldives independence." Solih congratulated his rival on X, thanking the public for its "beautiful democratic example."
Indian Prime Minister Narendra Modi also sent his congratulations, writing on X that "India remains committed to strengthening the time-tested India-Maldives bilateral relationship and enhancing our overall cooperation in the Indian Ocean Region."
The China effort for influence over the Maldives has increased the diplomatic significance of the country of 1,200 islands and atolls, known globally for its high-end tourist resorts. Soon after Solih won the previous election in 2018, India began pouring in millions of dollars' worth of development assistance, aiming to prevent further China's inroads already made during the previous presidency of Abdulla Yameen.
On the eve of the latest elections, even Washington opened a new U.S. mission in the Maldives, adding to a growing list of Western governments that had, previously, kept an eye on the country from neighboring Sri Lanka — another hotbed of Indian-China competition.
During the campaign, seven candidates running against Solih pushed anti-India messages, questioning New Delhi's security footprint in the islands, which straddles busy shipping lanes in waters where China has been expanding its naval footprint. Solih had opened himself up to such attacks by embracing an "India first" policy to mark a clear break from the pro-China stance of Yameen, in whose government Muizzu had been a minister.
Clearly wary of the anti-Indian tempo of the campaign, Solih and Lt. Gen. Abdullah Shamaal, the head of the country's small defence force, denied that they had allowed New Delhi too much influence. Critics zeroed in on military assets that India had provided Male, including two helicopters and a small aircraft to boost the Maldivian coast guard, along with an estimated 75 Indian military personnel stationed in the Maldives to operate and maintain the aircraft.
Shamaal insisted that "there is no place, no military base, where the Maldives army does not have authority."
Yet, such appeals to Maldivian patriotism did little to keep the public on the side of Solih, whose Maldivian Democratic Party also enjoys a commanding majority in the parliament. The soft-spoken 61-year-old secured 46.2% of the ballots in Saturday's polls, which saw 86% turnout among 2,082,804 registered voters, according to preliminary estimates.
The turnout figure was up from 79% in the first round, which had been the lowest in a presidential contest since the Maldives held its first multiparty presidential elections in 2008, as it transitioned toward democracy.
But despite their differences, some say Solih did not do enough during his term to separate himself from his predecessor Yameen.
"Solih's government did not distinguish itself much from the Yameen government, as far as the general public was concerned," Ahmed Shaheed, a former Maldivian foreign minister, told Nikkei Asia.
"In fact, in regard to rule of law and accountability, the Solih government has fared worse, while also being equally if not more corrupt and more inefficient," he argued.
However everyone including China knows that –if push comes to shove – what will be India's pre-emptive actions !!!!