Mukul Roy dumps BJP, returns 'home' to TMC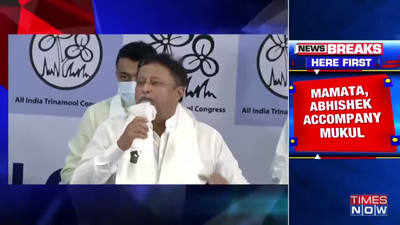 BJP national vice president Mukul Roy returned "home" to the Trinamool Congress in Bengal CM Mamata Banerjee's presence on Friday, prompting Trinamool seniors to call it the "beginning of the end for the BJP in Bengal".
Mukul, who was joined by son Subhrangshu in the "homecoming ceremony" at the Trinamool headquarters, had quit the Trinamool and joined the BJP in November 2017, becoming its first and arguably its biggest Trinamool catch till Suvendu Adhikari joined it in the run-up to this year's assembly poll. A host of Trinamool leaders, including several former MPs and MLAs, followed Mukul to the BJP as he helped his new party post a creditable performance in the 2019 Lok Sabha poll in Bengal, when it won18 of the 42 seats in the state.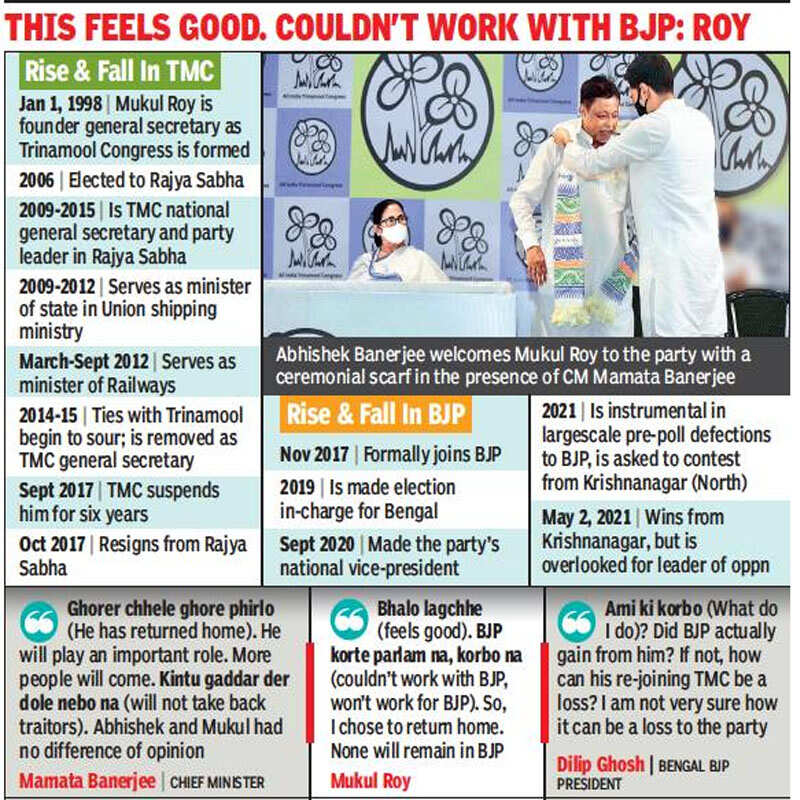 Trinamool leaders hoped that Mukul's return on Friday — described by the Bengal CM as "ghorer chhele ghore phirlo (homecoming)" — would similarly mark a reverse exodus from the BJP and prompt its "collapse like a pack of cards in Bengal". Mamata did not elaborate on Mukul's role in the Trinamool, merely saying that he would "play an important role", but added: "More people will come (from the BJP)." She also made a distinction between hardliner Trinamool-to-BJP turncoats and others: "Gaddar der nebo na (We will not take back traitors)."
Mukul himself repeatedly said "Bhalo lagchhe (Feels good)" to describe how the "homecoming" felt. "BJP korte parlam na, korbo na (I could not work in the BJP, will not work for the BJP). So I chose to return home," he said, adding at one point: "No one will remain in the BJP."
Mamata added that it was "difficult to stay in the BJP". "They intimidate and threaten. They show agencies. No one will be able to stay there with dignity and respect. Mukul did not say it but he too faced it. I have even seen his health deteriorate. It is good that he has retuned home," she added. "Old is always gold," she said, adding that Mukul had "not maligned the Trinamool even when he was with the BJP".
Trinamool national general secretary and Diamond Harbour MP Abhishek Banerjee agreed. "I empathise with his (Mukul's) many struggles. We will work as a team in the Trinamool," he added.
Mukul was one of the band of leaders who were with Trinamool chief Mamata when she announced the birth of a new party on January1,1998. He has served as its national general secretary for seven years, been elected to the Rajya Sabha twice and has been railway minister.
His relationship with the party leadership, however, started deteriorating since the CBI started probing the Saradha case. He hung around for some time but, with his importance diminishing, left the party and joined the BJP in November 2017. His graph in BJP rose till after the 2019 LS poll but things started moving downhill in the runup to this year's assembly poll as a host of Trinamool leaders followed Adhikari to the BJP.

Abhishek and Mukul had no difference of opinion : Didi
Mukul fought on a BJP ticket from Krishnanagar (North) and won the constituency but his son, Subhrangshu, lost from Bijpur to his Trinamool rival. The Roys' relations with the BJP nosedived further after Adhikari became the assembly opposition leader. Abhishek's visit to hospital to see Mukul's ailing wife, Krishna, on June 2 signalled a possible rapprochement and things started moving fast thereafter.
"Even PM Narendra Modi's call to Mukul a day later, when he asked about Krishna's health and promised all help, failed to repair the breach," a senior Trinamool leader told News Agency, giving a large part of the credit for Mukul's "homecoming" to Abhishek.
Ironically, it was Abhishek's growth in the Trinamool that was said to be one of the reasons behind his 2017 defection. On Friday, however, Mukul denied he had "any difference of opinion" with Abhishek.
The Trinamool also left it to Abhishek to formally welcome Mukul back to the party with the ceremonial uttariya (scarf); Mukul returned the gesture, pulling Abhishek into a tight embrace.
Mamata, at one point during Friday's press conference, categorically said: "Abhishek and Mukul had no difference of opinion."
Mukul's immediate future in the Trinamool is not clear. The party has two Rajya Sabha openings, with MP Manas Bhuniya returning to the Bengal cabinet as an MLA and Dinesh Trivedi defecting to the BJP, but the party leadership may have other plans for him. "The BJP is destined to fall like a house of cards in Bengal.
Today's development is the beginning of that end. Shall be difficult to count the numbers of camp deserters. Come and call again Didi O Didi and get again a good rebuff, BHAI," Trinamool Rajya Sabha chief whip Sukhendu Sekhar Ray tweeted.