Omicron: Is it the 'beginning of the end' of COVID pandemic?
Experts weigh in on variant's unprecedented transmissibility as sign of viral "burnout"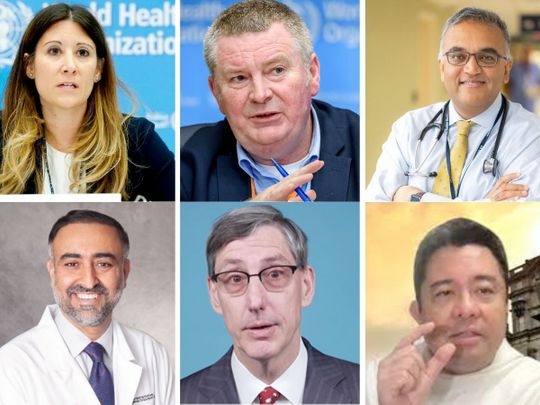 In certain places, Omicron cases are doubling every two days. Know what experts say about the possible "burnout", or end of the pandemic.
NEWS about the highly-infectious Omicron variant of COVID-19 looks bad at the moment. Cases are surging, runaway infections are ripping through communities, leading to renewed lockdowns and mask mandates.
As it spreads fast, far and wide, more than any virus in history, cases have been doubling every two days in some places. And once it becomes dominant in one place or country it dominates the new wave.
That sounds like a lot of bad news.
Omicron currently is driving new record cases — with 10 million reporting positive globally during a weekly tally ending Sunday (more than 95% of new cases in the US).
Good news
Some experts, though, see good news.
Because it moves fast, Omicron's wave should last less than three months in a population. Yes, certain weeks within those months could be bad, they say.
But if the variant's observed "intrinsic lower virulence" holds — as suggested by recent studies, though yet to be confirmed in the larger population — this could lead to lower disease severity, hospitalisation and death.
Experts weigh in on the pandemic's expected "burnout":
'We have tools to end it in 2022'
While the jury is still out on Omicron, medical experts point to the fact that tools that protect people from severe infections and even death — vaccines, boosters, pills, masks and tests — are now available, though not to a level the World Health Organisation initially sought.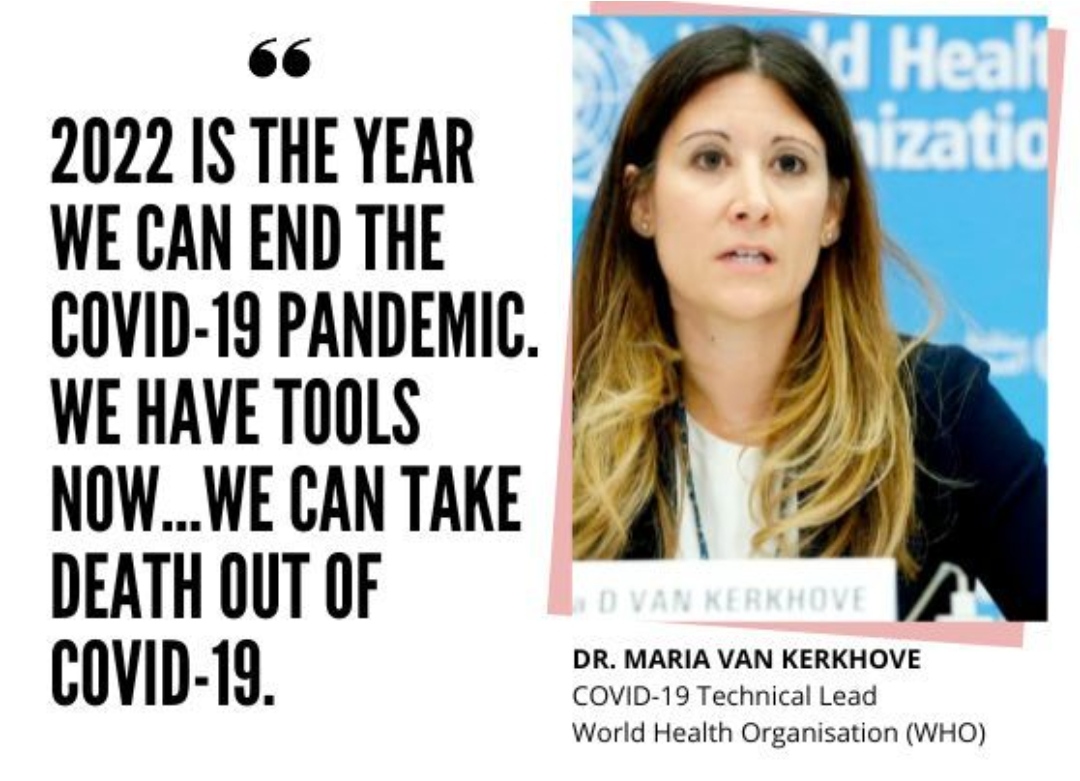 "2022 is the year we can end the COVID-19 pandemic. We have tools now. We can take death out of COVID-19," said Dr. Maria Van Kerkhove, WHO COVID-19 Technical Lead.
'VIRAL BURNOUT'
Most scientists agree that the pandemic will eventually "burn out", posing less public health danger over time, like the Spanish Flu itself, though it may at times burden the healthcare system, and still cause deaths.
But large numbers of people get sick in the short term, and some may even die, and social factors such as crowding and the unavailability of medicine can drive those numbers even higher. The burnout may take several years. Before it happens, havoc reigns.
However, making COVID-19 vaccines and drugs more accessible is key: just 3% of the almost 8 billion doses given globally have been administered in Africa — and only around 8% of Africans are fully vaccinated, way off WHO's 70% target by July 2022.
Huge wave expected
Though there are many unknowns still about Omicron, Dr Ashish K Jha, Dean of the Brown University School of Public Health, warns that "a very large wave of infections" will spread quickly.
"We will see cases rise rapidly in the next few weeks, likely peaking sometime in mid-January. With any luck, cases will then fall as quickly as they rose, getting to very low numbers by the end of February. All of this suggests that the work ahead is to manage the next six to eight weeks."
Writing for The Atlantic, Dr Jha noted: "Successfully navigating the next wave of the coronavirus pandemic requires charting a middle course — one designed with clear goals in mind: preventing deaths, protecting our hospitals from crushing caseloads, and keeping schools and businesses open. We can do this with the proven, effective tools we already have, while giving in to neither dismay nor dismissal."
"Boosted people will largely do fine; partially vaccinated people will get infected at very high rates," he stated, adding that unvaccinated and high-risk people with breakthroughs will be at risk for hospitalisations.
'Hard month ahead'
Fr. Nicanor Austriaco, a Filipino-American molecular biologist and MIT-trained vaccine researcher, believes Omicron's high transmissibility indicates the pandemic's end is close at hand. He warns of "a hard month" ahead.
But due to its ultra-high transmissibility, Omicron will eventually amount to a "natural vaccine". "So as the virus rapidly increases, it's going to try to spread to everyone and it's going to try to find as many vulnerable (people). It is spreading so rapidly, what you will expect is it will run out the food sooner."
"And when it runs out of food, it will begin to crash — which is why you see in South Africa, the numbers are crashing. In London, the numbers are beginning to fall only; because, once it spreads like wildfire, and when all the trees are burned, there's nowhere for it to go. So it begins to crash," he added. The Omicron variant marks "the beginning of the end of the pandemic," he said.
'Omicron is a blessing'
"We have to realise that Omicron is the beginning of the end of the pandemic because Omicron is going to provide the kind of population immunity that should stabilise our societies and should allow us to reopen. This is the hope and the prayer," he said.
"The Omicron is actually a blessing. It will be hard for one month, but afterwards, it should be a blessing because it should provide the population protection that we need everywhere," he added.
Nonetheless, Fr Austriaco urged people to be cautious, particularly those still unvaccinated against COVID-19. "The variant will continue to bring high COVID-19 cases, but the public should not be scared of these numbers. We should expect that
most of these cases will be mild. We should expect fewer hospitalisations and deaths," Austriaco said.
'Situation similar to that of the flu'
A vaccine executive also said the pandemic could soon run out of steam before the end of 2022. Moderna Inc Chief Executive Stephane Bancel said in September last year that the coronavirus pandemic could be "over in a year" — due to increased vaccine production as well as natural immunity.
"If you look at the industry-wide expansion of production capacities over the past six months, enough doses should be available by the middle of (2022) so that everyone on this earth can be vaccinated. Boosters should also be possible to the extent required," he told Swiss daily Neue Zuercher Zeitung.
"You can either get vaccinated and have a good winter. Or you don't do it and risk getting sick and possibly even ending up in hospital," Bancel said then.
Asked if that meant a return to normal in the second half of 2022, he said: "As of today, in a year (referring to September 2022), I assume." Bancel said he expected governments to approve booster shots for people already vaccinated because patients at risk who were vaccinated last autumn "undoubtedly" needed a booster.

'Dangerous, careless' idea
For Dr Faheem Younus, Chief of Infectious Diseases at the University of Maryland, the claim that there's no point in trying to prevent Omicron is a "dangerous, careless" idea.
Dr Younus stated in a tweet on Thursday: "'Omicron is so contagious that everyone will get it. No point trying to prevent it. It's the best vaccine.' Please don't fall for it. Wear a mask and avoid gathering. In a few weeks, this wave will recede. You can/should prevent this infection."
As for Dr. Timothy Brewer, professor of epidemiology at the David Geffen School of Medicine at UCLA, he said COVID-19 isn't ever going to go away completely.
Instead, he adds, people will have to learn to live with it. "This virus is so well adapted for human-to-human transmission that it's never going to away," Dr. Brewer told US media. "There will be periods when there will be more cases and [fewer] cases, just like it occurs with influenza every year."
He envisions, however, that regular vaccinations and antiviral pill treatments could combine with infection-conferred immunity to make COVID outbreaks significantly less severe in the coming years.