Operation Pawan : Baptization By Fire In The First Venture
By
Colonel Awadhesh Kumar, Veteran Special Forces
24th Oct 87 was my last working day with the unit, as I was to move out on posting after nearly Nine and half years in 9 since commissioning. At 1600h, I reached the football field as I was to be the Referee for one of the inter team football matches. To my surprise not a soul was there. Wondering, I proceeded towards Bravo Team Lines. I was relieved to see Captain Sanjay Thapa coming towards me. He seemed to be quite excited and blurted out….sir we are off to Jaffna tomorrow morning…..

I casually enquired " who all" ….. B TEAM less a Troop with one Troop of Charlie led by Joe Sengupta and you too sir. He did not notice my surprised reaction.
So now I was once again the 6 Troop Commander and also the Officiating Team 2 IC, since Capt Britto was now the Team Commander. Major Ranjit Singh, the erstwhile Team Commander had just been Struck of Strength two days back on his posting to a high altitude area.
The next 12 hours were spent checking everything of my 6 TROOP and then those of the BATS TEAM including the 9 TROOP from C Team. Zeroing of all the weapons was done at night and we also attended the Officers Mess Party to dine out Major Ranjit and celebrate promotion of S K Varni to Acting Rank of Major.
During the Mess function Britto too was promoted to Major…..probably the first BREVET promotion in the Indian Army after the British Era …a prerogative of the Commander – In- Chief only, now duly taken over by OUR TIGER 9 with reference to none. Britto kept wearing the epaulettes and became a Substantive Major only in December '88. The Self Styled C-In -C also Thumbed his Nose at the Military Secretary's Branch. After issuing several threatening signals to the Unit/ CO for my forth with move to my new posting and added was Capt Anil Singhal's forthwith move to NSG, the Military Secretary in the end just gave up.
…….Next day on 25 Oct 1987, very early in the morning there was a unit Mandir function and by 0530 h BATS Team was inside the Udhampur airbase. Since we had a Troop of Charlie Team with us, we had decided to call our Team as BATS instead of Bravo Team. The BATS Stood for Britton, Awadhesh, Thapa and Sengupta. It was there at the airbase when the Tiger9 Growled the famous saying " Indian Army has dialled 9 for assistance, now go and rescue them ". ……since then 9 has remained perpetually in this mode.
2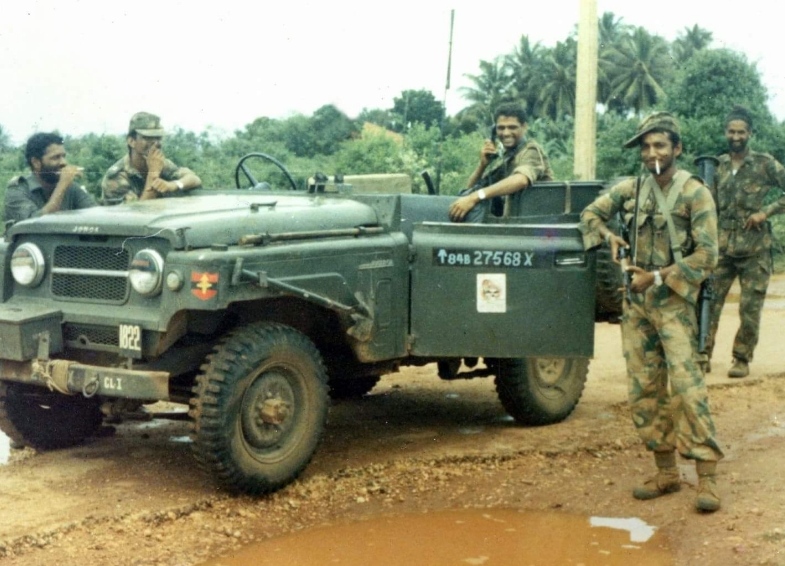 Everyone was quite excited to visit a foreign country and that too without a passport or even a visa and imagine the excitement had we known about the VCRs, all modern electronics and foreign beers and Scotch awaiting us !!
We were also fully aware of the 10 PARA set back which they had during their operation in the Jaffna University area. This was at the back of our mind but we all were hoping that IPKF would at least leave some last mopping operations to be done by us also.

Then four dots appeared on the horizon and soon four AN 32s were lined up on the Tarmac. In less than an hour, one by one the aircrafts took of and BATS were on their way to Jaffna.
There had been a refueling and lunch halt at Nagpur and then later a halt at Tambaram.
At Tambaram we had de planed and sprawled on the green grass next to the tarmac. When signal was given to board, I picked up a pebble …mother India …just in case there was no return. When the aircraft took off, I saw Britto too with his one fist closed. I looked at him pointing to his closed fist. He just opened it …a pebble was there. Then we noticed many of the men also with closed fists.
Just before last light, the four AN 32s had finally taken off from Tambram with the bearings set for Palely…….the Sri Lankan Air Force base in The Jaffna Peninsula and also housing their HQ Northern Command.
As we neared the island after a 45 minutes flight, the aircraft went for its final descent, and we could see flashes and flares going up in the distant sky….the last of the battles for capture of Jaffna was going on. There was total silence inside the aircraft.
At last the tail door opened and we stepped out. What a sight….. It was quite dark outside but we could make out aircrafts and helicopters parked all around, dozens of them, various types, both military and civil. We started unloading quickly with every one talking only in whispers…..till we heard our names being called out loudly.
Then the silhouette of SHASTRI JI was visible and we ran to him, enquiring if everything was ok with him…..he replied in vernacular that he was not a ghost and very much alive and kicking!! We were also told that we could talk loudly or even shout in case required ….LTTE was far off. However a bigger foe ie Jaffna October Rain could descend on us any minute with devastating effect.
As advised, our men unloaded all four aircrafts in quick time, loaded the vehicles provided by thoughtful 10 and Major Sheonan, code name Shashtri ji, drove us, parallel to the runway to 10 PARA location at southern end of the airbase.
Tents came up quickly and everything got tucked in. Then our boys were taken to company langars by men of 10 and BATS were similarly given a warm welcome by Lt Col Dalvir Singh and all the officers in the Officers Mess.
Next morning, Lt Col Dalvir Singh, gave a pep talk to our men and then a detail of the prevailing situation in Jaffna. After an our came CO 1 PARA, Colonel Arjun Katoch, SM with a few officers. They too welcomed us and then gave a quick brief of the situation. The cook house was made functional the fastest as we did not want to burden the ever ready host …10 PARA.
Soon The men got busy in tidying the camp, sorting out the ammunition and other stores. Britto and self then went to liase with the IAF and Army Aviation helicopter Squadrons and within three hours all four officers, each went in a Supply Sortie to wherever the helicopters were going. Thus Jaffna, vadamarachi, Tenamarachi and even Killinochi areas, all were visited and people talked to on the brigade / battalion helipads. The IPKF had spread out all over but road link was yet to be established properly.
We came to know that when operations had started, some units had gone into battle at night straight after landing at the Palali base. Soldiers who had been killed in action had not even seen as to where they had come. Over the next two days, all our JCOs and most of NCOs too had the Chopper rides to various unit helipads and thus familiarized themselves with the topography of Jaffna from the air.
Having reported to the Divisional HQ in general and the Colonel General Staff in particular and taken our briefing, collected our maps etc, we were now ready for our first mission. Colonel Hoshiar Singh the Colonel GS ( later Major General and Colonel of Parachute Regiment ) was a paratrooper who had also served in 9 PARA for quite some time on its raising. This was a big comfort to us.
3
Fully dressed up, all four of were trying to get some sleep after an early dinner at around 1900h. We were sprawled on our mattresses, on the tent floor, with our weapon and rucksack neatly piled up beside each. However sleep was far off.
Much much later, we found out that each of us though with varying commissioned service from 10 years to 7 years, was thinking nearly the same thing.
Yes, I was frightened but the fear was not of death now, that fear had receded somewhere beyond the back of the mind. Dispassionate thinking made you recognize the fact that odds of getting hit was enormous and thus very remote. Though at times one wondered that if you do get hit, what would it feel like and which part will it be. Presently the fright was : When under fire, Will I be able to do everything which as a Troop Commander I was expected to do, without displaying any outward sign of fear ? After all, counting the NDA days, for the last 13 and half years, I was training for this day only. I prayed that my reflexes to be fast and voice steady when giving orders. By now the fear of failure had swamped all other fears.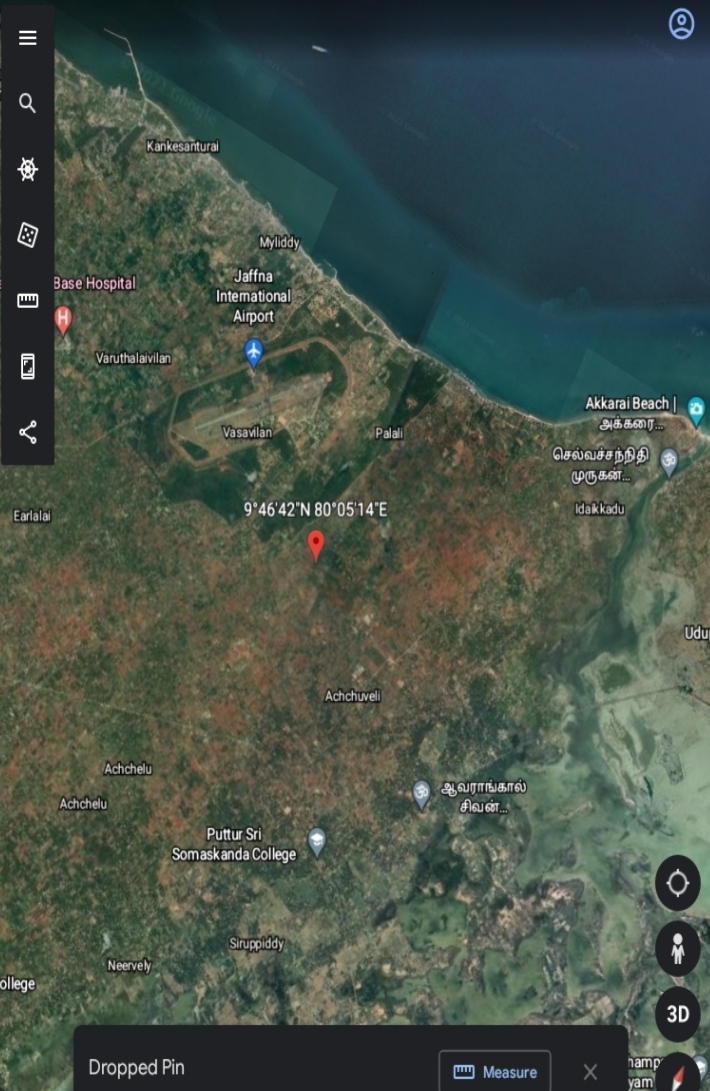 This was our fourth night in Jaffna or Palaly to be more precise. We had received our we had been given our mission by HQ 54 Infantry Division for the fourth night of our arrival on the Island of Sri Lanka. The General Staff Officer Grade1, Lt Col Sushil Gupta ( later Lt Gen and DCOAS) could hardly provide much information regarding the enemy….LTTE was supposed to be everywhere!!! A battalion of ours was to advance along Road Vasavilan towards Achchuveli and secure the area for further advance of our forces into Vadamarachi district to secure Velvettithurai, the most prominent town of the district and home town of LTTE Chief Prabhakaran. Their chief ideologist Anton Balasingham was also somewhere there.
The task given to BATS Team was to go Southwards somewhere between Idakkadu and Achchuveli ( see the map above ) and establish a block at a Suitable place to observe the area and prevent escape / reinforcement across the Causeway Connecting Jaffna district with Vadamarchi district.
After detailed study of the map, the plans were made. My 6 Troop was to lead with 4 Troop led by Sanjay Thapa in the middle and the rear to be brought up by 9 Troop of Joydeep SenGupta. Britto with his party Would be right behind my Troop. A detailed briefing was given to the TEAM and every thing was checked and re checked at every level, several times. The hidden nervousness was just about under control of every one ….ALL ranks included.
4
It was time to get ready. Around 2330 h, some one brought some tea and soon we were ready. At exactly 2400h, our column was crossing one of the side gates of the airbase. We started moving ahead, under the watchful eyes of the Sri Lankan Sentries manning their Machine Guns Posts at regular intervals along the perimeter. Around up to a km, we moved along a road. The entire area was fully lit up with powerful flood lights but though comforting to the Sri Lankan Sentries this was not to our " liking ". We would have been comfortable in total darkness.
Anyway, by the time we left the road and started moving in dark, cross country towards our first halt, we had become totally engrossed in our standard drills and procedures. This had come automatically and all other "thoughts " and "fears " had been pushed back if not vanquished all together.
After 2 to 3 km of cross country move, we again hit a road. Around a km plus on the road, we could see the perimeter fencing of the Divisional Ordnance Unit of 54 Infantry Division of the IPKF, our first halt after leaving the airbase. As we entered the DOU area, the tension left us completely. The Team was to rest there till the final kick off time of 0430h. To our surprise we found out that the DOU had got tea ready for all of us 100+ along with hot " pakoras and halwa ". Even at this hour, we suddenly felt hungry and devoured whatever was offered.
While we were having tea, in came a Team of 1 PARA. They had a similar task akin to ours but towards the Coast where there were two Causeways North of Idikkadu. We exchanged notes. Our first 2 km of the route was the same. So they offered to lead, having more knowledge of the area as they had spent much more time on the Island. Meanwhile, I went around to see the defensive posts from where we would be exiting and later also approaching while returning after completion of our mission. These posts happened to be manned by a CRPF platoon. I got talking to them and also to their Sub Inspector who happened to be from Bihar, my State.
At 0430h, again we began our next move. We were now fully alert, body tensed for immediate reaction but somehow the mental tension was missing. 6 Troop under my Command was leading followed by Team Commander, 4 Troop and 9 Troop. We were following 1PARA team keeping proper distance. Slowly the darkness began to give way to pre dawn visibility. Actually the most dangerous time in battle. When it was nearly dawn,we reached the place where we had to peel off, a code was passed on radio to 1 PARA. Thereafter BATS went to ground for a five minutes halt.
We were moving once again.Now one could make out thing up to at least 100 m or more, visibility was increasing by minutes. Suddenly there was crackle in the air, as if something invisible had gone over our heads with very high speed and at once there were more of it. Sound of rifles firing but of a lighter variety was clear. Next few minutes everything was a blur. I dashed and then went down, crawled to a small mound and looked for my radio operator. He was right beside me. Then quickly took stock of all four assault Squads. My Second in Command, Subedar Dharam Singh gave all OK report and I could see that the Weapon Squad was well deployed under his control.The front squad had immediately retaliated with rifle fire. The LMG det again carried out some speculative fire at possible hiding areas in front. I then ordered the second Squad to maneuver into a new position and asked the number one squad to stop firing. …..all these things had happened in a flash.
Slowly my adrenalin flow began to ebb down and heart beat was getting steady. Then I found my team Commander and his operator beside me. It was proper daylight now. Britto quickly took report from 4 Troop.. 9 Troop had taken position in the pylemera grove itself, which rest of the Team had cleared few minutes before. Suddenly both Britton and self started grinning and Sir John D Britto, the first Brevet Major of Indian Army after independence, appointed by Tiger 9 under his own authority, began laughing out loudly in his characteristic style.
We had been fired upon, may be just a few scores of rounds, by the enemy in anger. We had heard the fire of AK 47 of the LTTE and fire of our own 7.62 SLR at the same time. We were clearly able to distinguish between the phatphat of AK and Crackthump of SLR. we had suffered no casualties. The enemy had vanished. Lastly all ranks had reacted in perfect copy book style.BATS Team had passed BAPTIZATION under fire!!!!
5
Team Commander then asked 4 Troop to lead. 6 Troop was on ground covering their move to the front. Then 6 Troop got up and started following and only then 9 emerged from the grove. We were moving well spread out, as per the terrain. After about an hour and a half, we were near our given block site. About 1800m to our left was a Company post of Sri Lankan Army. To the right about 2 km away was a line of houses and some of them were double storyed. We went to ground.
One Squad with Capt Sanjay Thapa went to recce the Block site. It was a sort of a grove with Cacti type plants and small bushes up to height of 6 to 7 ft. Area of the grove was not much, just about 100m diameter. After all clear sign, 4 Troop moved into the grove followed by 6 Troop.
As 9 Troop was approaching, the gates of the Sri Lankan post was opened and a vehicle started coming towards us at crawling speed. At once 9 Troop went to ground and rest of us in the grove too got tensed.
Capt Joydeep was immediately asked on radio to shout out a halt order to the advancing jeep. Next he was asked to move forward with a Squad and approach the Sri Lankans. As this happened, the vehicle stopped and a Sri Lankan Lt stepped out. The two sides met and we relaxed a bit on seeing them shaking hands. The Sri Lankan Army then handed over some biscuits and fruits to our chaps and went back.
The enemy had no artillery but then they had crude mortars. So by now every Troop was busy taking up its position and carrying out some digging. However to our surprise the trenches when just two feet deep got automatically filled with water, as the area very near to the sea lagoon. So we adapted immediately and piled all the mud and sand behind the trenches ( nick named these as Jaffna trenches ) and took position behind the mounds. The area grove was located in such way that it had clear view all around 360°. The Sri Lankan post was behind us on the Southern side. The village in front on the Northern side was about 2km away. To the East the nearest grove was again more than 2kms and on the west was the narrow lagoon ending in a small grove about 1 km away. We could see good part of a road across the lagoon.
As it was, we had good cover with ample area for resting well hidden from any type of observation. There was bright sun which ensured that every thing got dried out. Everyone had a hearty lunch and most went to sleep except those manning the machine guns as Sentries.
We were fully deployed and coordinated to take on any opposition from LTTE or the Jaffna rain or so we thought. In the evening the rains came suddenly for few minutes and made the lot of us pure miserable. It continued like that, through out the night. Though the misery went away as soon as we stopped caring about it.
After last light, around 1930h the IPKF columns started their advance from Vasavilan, a few Kms away in the North and in front of us. Soon the battle erupted and seemed to be quite intensive, at least from the amount of fire power being used by both the sides. Illuminating rounds lit up the sky and to us sitting away, it was like a huge Diwali. Though we too were manning every thing and scanning the entire area with our night vision devices, specially the road area and the houses in front. We were fully alert.
6
Towards mid night the battle had moved towards Achhuveli and it had become relatively quieter. When suddenly there was loud continuous noise from somewhere inside our own area. Since now it was my turn to take some nap, I went towards the centre to investigate. It was none other than our Team Commander sleeping soundly and snoring away to glory. As per orders ( his orders only ) he had to be woken up and we exchanged places.
At dawn we had STAND TO. About half an hour later there seemed to be some activity across the lagoon. We were under observation by some people in civilian clothes hidden behind a high ground. After observing their activity for sometime, the Machine Gun det was asked to fire off a belt over their head. Within seconds those chap scooted from the area. Knowing the LTTE tactics of using pylemera trees as observation posts, we raked the trees in the grove in front of us with some more machine gun fire. Thereafter the entire day was eventless, though we had to remain at alert. The Team Commander had become sure that we were under observation from the area Grove near the lagoon and the double storied houses in the front.
So around 1700 h after observing the area Grove for sometime with our spotter scope, we again raked the area with Machine gun fire. Once we stopped, came the sound of a frustrated 3 round burst of AK47 fire. Instantly our Rocket Launcher fired a High Explosive round into the area. Then two squads were led by me, well spread out but nearly sprinting towards the Grove. We searched the grove carefully found few fired cases and a pair of Slippers, then we placed some well camouflaged trip flares and came back.
After last light, battle again erupted towards Achchuveli. After an hour, Major Britto took a LMG det and a two inch mortar and crawled towards the village. After observing the houses through the night vision for good about half an hour from about 400m, he fired an illuminating round towards houses and opened fire on two people armed with rifles, who we're seen running away.
Around 2300h, suddenly we received orders on radio to terminate the mission and report back to Palaly airbase. We tied up with 10 PARA to inform the Divisional Ordnance Unit accordingly. We intimated that our expected time of arrival at DOU would be around 0345h. We also requested for radio frequency of the DOU in case they had one.
We could leave only at 0030 h and by that time the Jaffna Rain Devil was actually pouring down like " cats and dogs ". It made things a bit safer for move but at the same time was an avoidable misery. We moved cross country in the pouring rain, taking a route, different from the way we had come.
Movement, through cultivated / abandoned fields, was not very easy in that kind of rain. Also area in front had to be scanned quite frequently with the night vision binocular. Using the night vision helmet mounted Goggles continuously while moving may look fantastic in Movies ( like URI ) but is not Viable when you have to move over long distances and that too in pouring rain. It is not only practically impossible but rather useless too.
7
The rains stopped at around 0300h. At that time we too came out of the water logged fields onto area relatively with much harder surface. The Team went to ground for a much deserved break. The DOU area was also not very far off. So radio contact was tried with the frequency passed onto us by 10 PARA. There was no contact. So when Our forward elements were about a km away at about 0345 h, we flashed torch signal towards the DOU, several times.
Then we began nearing the DOU, a Squad was in front of me with Subedar Pushpender following them. I was following Subedar Pushpender with my radio operator, when Major Britto moved up and came next to me, a few meters towards my right.
The Squad halted went to ground, scanned the area and signaled that now the DOU just 100 m ahead. We again got up and started moving. We must have moved less than 50 m in the darkness when suddenly there was again that crack & thump …the unmistakable sign of 7.62 SLR rifle followed by LMG firing at us. We were on ground, with Subedar Pushpender shouting at the top of his voice in Hindi …. Stop firing, we are paras, IPKF. Luckily rest of the Parachute Commandos knowing the situation displayed full 100% fire control and discipline. The firing stopped abruptly.
I suddenly rembered the name of the CRPF Sub Inspector and shouted out his name two or three times …inspector Pandey and gave out my name. He replied at once. Then I told him that he must tap his LMG det physically and tell them of our approach, also to warn all his men in a loud voice NOT TO FIRE (we did not want any panicky chap to open fire once again). Once he had done his part, I again shouted that now we are going to get up and start coming towards him. He shouted back in the affirmative.
In next few minute,6 Troop and 9 Troop were inside the DOU, it was then we realized that 4 Troop was missing. There was a bit of panic for a few minutes till Thapa came on radio, saying that he was deployed with his Troop on our left flank to blast out the area in front. He was immediately given a Stand down. Subedar Pushpender took a Squad towards the flank to guide in the 4 Troop. A likely BLUE on BLUE was thus averted in nick of time.
While enjoying the hospitality of Ordnance Corps once again, we asked them if they were aware that we were coming. They said Yes but the time was to be 0330 h. Then we were told that they had seen several torch signals and took it that LTTE chaps were signaling their men to get ready for an attack !!!!
Thus ended the first BATS mission of Operation PAWAN.
A few months later, Joydeep's 9 Troop (now part of Charlie Team, 9), suddenly got pinned down under heavy fire. He just nonchalantly advanced at them firing from the hip in true John Wayne style. Two of the LTTE went down and rest ran away but in the bargain Joe was hit with few bullets, One in the stomach. He earned a much deserved Vir Chakra. He later commanded one of the Action Groups in the NSG. Sanjay Thapa, too got wounded a few months later and earned a Sena Medal, went on to command the Special Group and retired as a Brigadier.
Britto for his work was recommended for Uttam Yudh Sewa Medal by none other than Rustam K Nanavatti. Two years later on getting out of Sri Lanka on a peace posting, he was called for his medical categorization board. To their " horror" the Board found out that he was due for the same, three years back. Furious, the bosses issued a Show Cause asking for explanation…..He just gave " I was busy bashing up the jungles of Vavvunia"!!! Later he commanded 9. Last heard, he was busy cycling in Arunachal Pradesh …he is now 65+.
the recommendations for UYSM for Britto which had been forwarded well in time. The covering letter had been signed by me only. However the military hierarchy( higher HQ ) misplaced it, deliberately ( my view), and asked for another one only after Nanavatty had left Sri Lanka on posting. Later when in Northern Command, General Nanavatti had complemented Britto writing " it was my privilege of having served with you ".