Railway came to India not because of British but because of Nana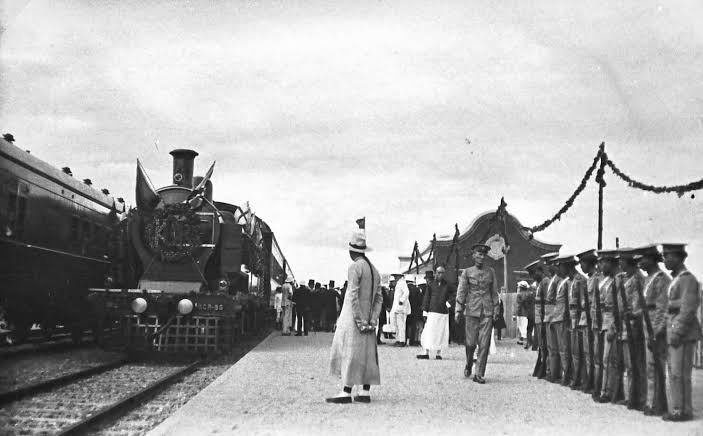 A Slice of History, very few will be aware of. 15 September 1830. The world's first intercity train ran between Liverpool and Manchester in England. This news spread everywhere.
In Bombay, a man found this very inappropriate. He thought that the Railway should run in his village too. Railways had just started running in America and spreading out at a very slow pace. And this man in India, living in a poor British company-ruled colony like India was dreaming of railways. Had it been anyone else, people would have laughed at him thrown out his ideas. However this man was no simpleton. Nana Shankarsheth, a Bombay moneylender who himself was a banker and gave loans to the East India Company itself.
Nana Shankarsheth's real name was Jagannath Shankar Murkute, from Murbad. Generationally rich, his father was a big money lender to the British. He earned a lot of money during the British – Tipu Sultan war. His only son was Nana. This boy came with a Golden Spoon in his mouth. But not only Lakshmi but also Saraswati's hand of blessing was on his head. The father also got the boy educated in English etc. by hiring a special teacher. After his father's death, he expanded the home business.
When the whole world bowed before the British, the British East India Company officers used to bow down their head for the blessings of Nana Shankarsheth. He became a good friend of a Scott man Mountstuart Elphinstone. He was a Scottish Statesman and historian, associated with the government of British India.
He later became the Governor of Bombay, where he is credited with the opening of several educational institutions accessible to the Indian population. Besides being a noted administrator, he wrote books on India and Afghanistan. His works are one the pertinent examples of the colonial historiographical trend.
Mr Elphinstone sympathized with Indians. He used to strive to eradicate poverty and connect the country with the modern world. Call it the effect of his friendship or what else, but Nana also started efforts to get rid of the rusticity of his brethren and for the progress of his village. Bombay University, Elphinstone College, Grant Medical College, Law College, JJ School of Arts, first girls' school in Bombay, University of Bombay were established by Nana. Many roads were built in Bombay, hospitals were founded, India's first shipping company was established.
Even the British will never deny that Nana Shankar Sheth had a lion's share in transforming the village of seven islands into the city of Bombay.
So Nana Shankarsheth thought of starting a railway in Bombay. The year was 1843. He went to his father's friend Sir Jamshethji Jijibhoy alias JJ. After the death of Nana's father, he was like a father to Nana. He told this Sir JJ his idea, he also took the opinion of Supreme Court Judge Sir Thomas Erskine Perry who came from England about whether the railway can be started in Patlimumbai. They too were amused by the idea. Together these three formed the Indian Railway Association.
At that time, the company government had no plans of building railways in India. But when people like Nana Shankarsheth, Sir JJ, Sir Perry said they were behind, they had to pay attention to this. On 13 July 1844, the company submitted a proposal to the government in London. Plan was appreciated and Company was asked to prepare a preliminary report on how far the railway line would be laid outwards from Bombay.
After that a 'Bombay Committee' was formed. Nana gathered some other big businessmen, British officials, bankers and established a Company the Great Indian Railway. It was during this time that capitalists in England became aware of the ongoing movement to start a railway in Bombay in India. Later Lord J. British capitalists led by Stuart Worley established the Great Indian Peninsular Railway in London.
The office of this company was also opened in Bombay. The office of the company was started in Nana's Bungalow. Under his guidance, expert engineers from England started working on the construction of railways. The train was going to run for the first time not only in India but in the whole of Asia.
Finally the day dawned. On 16th April 1853 at exactly 3.30 in the afternoon, the Train left Bombay's Boribandar Station for Thane. This Train had 18 compartments and three locomotive engines. Nana Shankarshet and Jamshetji Jijibhoy were also among the Passengers of this Train which was specially decorated with flowers for its maiden journey.
Due to ignorance, everyone gives credit to the British East India Company for starting railways in India but actual credit should go to the contribution and hard work of Nana Jagannath Shankarsheth.
Today Indian Railways is one of the largest Railway network in the World. Railways were considered the lifeline of Bombay. Today, Mumbai is a Metro City, known all over the World as an Industrial City, because of the impossible dream of Nana Shankar Sheth, a simple but forward looking man.
Men of Dreams and Passion like Nana are beyond Awesome. They do so much without publicity that one unwittingly bows down.
Bombay's iconic Nana Chowk is named after Him.
Ed: Soon the railway was followed by the famous BOMBAY DUCK…another story !!