Raksha and Videsh Mantris of India – Australia to meet on Nov 20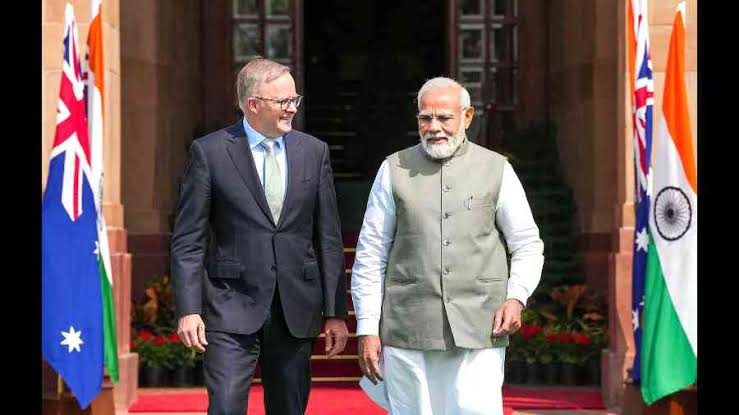 India and Australia will hold their second 2+2 dialogue of defence and foreign ministers on November 20 to advance cooperation on shared regional interests in areas ranging from defence to technology and to deepen trade and investment ties.
Shri Rajnath Singh, RAKSHA Mantri and Shri S Jaishankar, Videsh Mantri will meet their Australian counterparts Richard Marles and Penny Wong in New Delhi for the dialogue. This 2+2 meet was elevated to the ministerial level in September 2021.
The ministers are expected to discuss a range of strategic, defence and security issues, including bilateral, regional and global matters, to advance cooperation under the bilateral comprehensive strategic partnership, the external affairs ministry said in a statement. They will also exchange views on shared priorities for strengthening minilateral and multilateral cooperation.
A readout from the Australian side said the ministers will take forward cooperation on shared regional interests, including in defence, security, renewable energy and technology. They will also discuss deepening trade and investment ties, it said.
India and Australia are currently engaged in advanced negotiations for a comprehensive economic cooperation agreement (CECA) that will build on the Economic Cooperation and Trade Agreement (ECTA) signed in April 2022.
Marles, who also holds the post of deputy prime minister, will represent the Australian government at the final of the ICC Cricket World Cup on Sunday evening, when Australia will take on India.
"India is a top-tier security partner for Australia and our comprehensive strategic partnership is one of practical, tangible actions that directly benefit the Indo-Pacific region," Marles said ahead of the visit.
This year witnessed several firsts in India-Australia defence ties, including an Indian submarine visiting Perth and Australia hosting Exercise Malabar, and this demonstrates the "growing closeness" of the security partnership, he said.
Singh will hold a bilateral meeting with Marles, who last visited India in June 2022 soon after assuming office. Jaishankar and Wong will co-chair the foreign ministerial framework dialogue on November 21 to assess cooperation under the bilateral comprehensive strategic partnership and to exchange views on regional and global issues.
The Australian readout described the 2+2 ministerial dialogue as a cornerstone of the bilateral relationship and said ties between the two countries have "never been more consequential". Both countries are working together through the comprehensive strategic partnership, as partners in Quad and beyond to promote a peaceful, stable and prosperous Indo-Pacific.
"The India-Australia partnership is central to the stability and prosperity of our shared region," Wong said. "Along with our deepening defence and security cooperation, Australia is committed to partnering with India more closely for the benefit of our region, in the Indian Ocean, in Southeast Asia and in the Pacific."
India has 2+2 ministerial dialogues with only a handful of countries, including the US, Japan and Russia. The latest edition of India-US 2+2 dialogue was held in New Delhi on November 10.
After his engagements in India, Marles will travel to the United Arab Emirates (UAE) during November 21-22 for meetings with his counterparts. This will be the first visit to the region by an Australian defence minister in five years and is part of the country's efforts to prevent the Israel- Hamas conflict from spreading.