The Newly Proposed Joint Services Air Defence Command A Suggested Way Ahead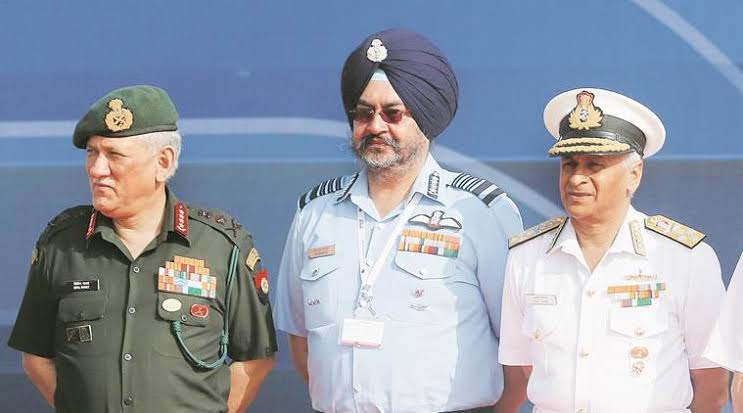 By
Colonel Awadhesh Kumar
Air Chief Marshal B S Dhanoa has termed the India-Russia S-400 deal as the 'game changer'. He said, "I have always said that S-400 is a game-changer. It is a very good deal by the government to get S-400."
On 15 October 2016 during the BRICS Summit, India and Russia signed an Inter-governmental Agreement for the supply of five S-400 Regiments that is 20 batteries or systems with 240 launchers.
The deal worth ₹40,000CR was formally signed on 5 October 2018, with Russia to purchase five S-400 Regiments during the 19th India Russia Annual Bilateral Summit in New Delhi on October 5, 2018, ignoring America's CAATSA. The deliveries are expected to commence in 24 months, by the end of 2020.
The United States has threatened India with sanctions as per its CAATSA Act, over India's decision to buy the S-400 missile defense system from Russia. India has jut ignored it. According to Russia's Deputy Prime Minister Yuri Borisov, the S-400 missile systems are likely to be delivered by early 2021.
Each S-400 Triumf system comprising two batteries has a total of 12 launchers. It is a layered defense system with a Command and Control Administration Centre. Its panoramic radar has a detection range of 600km with protection against jamming. The system can track 300 targets at a time. It has an active electronically scanned radar.
Targets can be engaged at 400km range / 185 km altitude, next at 250 km / 60 km altitude, then at 200 km, then at 120 km/ 30km altitude and finally at 40 km ( for cruise missiles). One system can simultaneously engage 40 targets with two missiles on each target.
When on stand by it can be ready for firing in less than 30 seconds and when on move the system can be ready for target engagement in just 5 minutes. The system can target ballistic missiles of ranges upto3500km,all types of strategic bombers, electronic warfare aircrafts, fighter jets including stealth fighters and cruise missiles.
However the S-400, has not been designed to operate as stand-alone system and therefore will be most effective as part of a much wider integrated air defense system (IADS). An effective IADS consists of layers of different systems — from the very short range to the very long range. Thus the entire IADS will have many different radars and other sensors for the detection of different types of enemy targets. The larger (in geographic scope), the denser (in terms of numbers of different systems within) and the more technologically advanced the IADS, the greater its ability to protect a given airspace.
The S400 in an effective IADS, will just be a part of the entire network. In fact these S400 systems to be really effective in IADS must be guarded by Air Defence guns and Short Range missiles and also ground troops, just like an airbase. Fundamentally, the aim of an effective IADS is to combine the many different strengths of multiple systems into an umbrella of layered and redundant defenses with considerable staying power even under sustained attack. In such a network, the long-range S400 will play the lead role, but it will ultimately be a team effort.
Keeping the above in mind, General Bipin Rawat, the Chief Of Defence Staff has rightly given the call for setting up an Joint Service Air Defence Command for safeguarding the entire Indian Air Space.
Now how do we go about it. Keeping the aerial distance from Leh to Kanyakumari, Leh to Tawang and Tawang to Kanyakumari, we will require a total of 40 × S400 type batteries to cover the entire air space with redundancy built in. One or two systems may be required in addition for Andaman & Nicobar Command. We have already ordered for 20 batteries and in time add 20 more batteries systems manufactured in India.
The Air Defence Command should be comprising 1x Command and 5x Integrated Air Defence Command & Control Zones namely North West Zone, South West Zone, Southern Zone, Central Zone and Eastern Zone. Each zone will be under a two Star Officer and its Command centre will be integrated with all Space based satellites, Joint Air Defence Direction Centre of the IAF Command in the Zone, Naval air defence assets, the Army Air Defence Brigades, Civil Air Traffic Control in the Zone and of course with its own Sectors and deployed ground / Air sensors.
Each Zone will be further having 2x Sectors each with 2x Regiments of S400 systems and other support elements for local air defence and protection from ground threats. There will also be elements for maintenance and logistics. Each Sector HQ will be Commanded by a one Star officer. The Regiments will be deployed within the Sector to carry out long range detection and engagement. In case aerial threats are able to breach a certain distance then Base Air Defence Zones of IAF / Navy / Army AD will be free to engage the targets locally. Till that time they will remain on watch only.
To be wielded into an effective network centric air defence system, all three services will have to have commonality in air defence communication systems and procedures including its security codes etc. Also Standing Operating Procedures for target engagement will have to be common and fail safe.
We cannot afford any Badgam type incident any more. All our military aircrafts and helicopters will have to be equipped with secure IFF system. Also all civil air traffic will have to follow a strict procedure as laid diwn by the Air Defence Command.
Once the systems starts getting in place then DRDO will have to ensure that in time to come the S400 system gets replaced step by step with fully Indian designed system for which our AKASH 2 and PRITHVI PAD missiles and our own radars will constitute the basics.