Top US Mantris arrive in New Delhi to meet Top Indian Mantris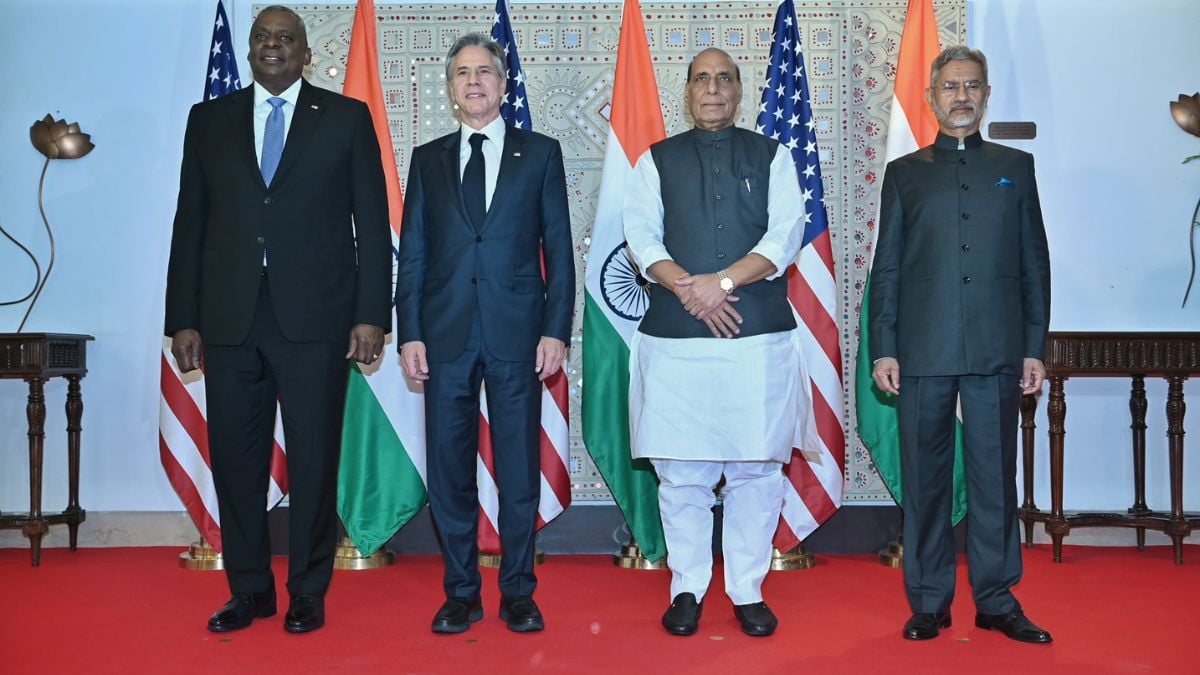 The Raksha Mantris and Videsh Mantris of India and the United States met Friday focusing on security issues involving the Indo-Pacific, China and the Israel-Hamas war.
U.S. Secretary of State Antony Blinken said the U.S. and India have a strong partnership and they would discuss matters with implications for the future.
"The future is now," he told reporters.
"We are promoting a free and open and prosperous Asia-Pacific, including by strengthening our partnership in the Quad with Japan and Australia," Blinken said in his remarks at the start of the meeting.
He also said that the United States and India are bolstering their partnership in international peace and strengthening a rule-based order.
Blinken also said defence cooperation was a key pillar in ties between the countries.
India's External Affairs Minister Subrahmanyam Jaishankar said the situation in the Middle East was a big concern.
While India has condemned the Hamas attack on Israel, it has tried to balance its position by saying that "India has always advocated the resumption of direct negotiations towards establishing a sovereign, independent and viable State of Palestine living within secure and recognized borders, side-by-side at peace with Israel."
"While the wars in Gaza and Ukraine are urgent issues, the more abiding challenge for both the U.S. and India relates to China and its revisionist orientation," said C. Uday Bhaskar, a retired navy officer.
The recent intimidation of the Philippines by China is a matter of considerable relevance to the Association of Southeast Asian Nations as well as the four Quad nations — the U.S., Japan, India and Australia, he said.
China and the Philippines have had several recent confrontations in the South China Sea, where several governments have overlapping claims.
Blinken is in Asia engaging in intense diplomacy with regional partners to show unity over Russia's war in Ukraine and other major issues and prevent existing differences on Gaza from deepening.
India and the U.S. have held the two-plus-two talks between the external affairs and defence ministers of the two countries, since 2018 to discuss issues of concern and strengthen bilateral ties.
Mr Lloyd Austin, the American Raksha Mantri and Shri Rajnath Singh will discuss a roadmap for defence industrial cooperation that will fast-track technology cooperation and co-production in intelligence, surveillance, munitions and other areas, the defence department said in a statement.
Washington expects India to be a leading security provider in the Indo-Pacific region.
During Prime Minister Narendra Modi's visit to the United States in June, the two sides adopted a policy guide for defence industries to enable them to produce advanced defence systems together and collaborate on research and testing of prototypes.
Surprisingly Ukraine conflict seems to be off radar.