USA's H-1B VISA System is a 'LOTTERY SYSTEM', removal promised by Ramaswamy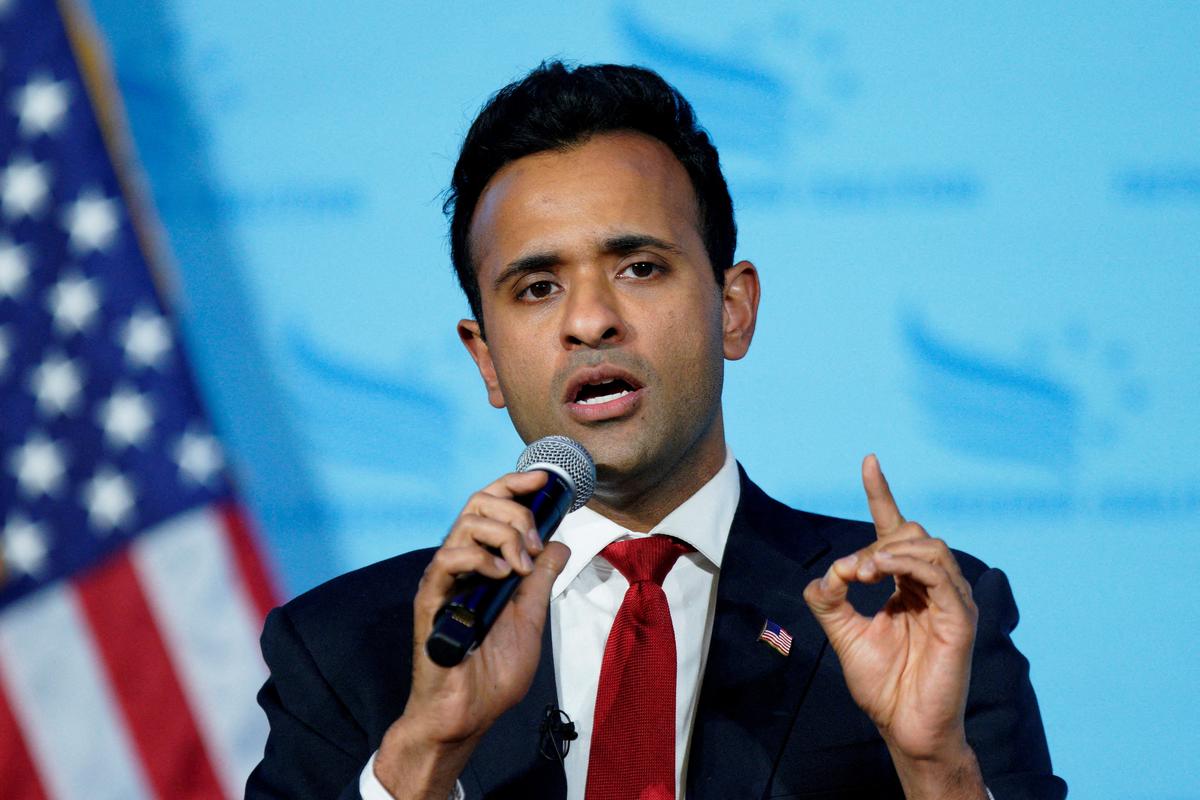 Vivek Ramaswamy, the Indian American entrepreneur has moved up sharply in GOP primary polls. He is now at No 2 position, tied up with Florida Governor Ron DeSantis. However, both candidates are hugely behind former President Donald Trump who leads with 56 per cent.
However in another poll by Real Clear Politics, Trump is far out in the race with 53.6 per cent support, followed by Florida Governor Ron DeSantis at 13.5 per cent, and Ramaswamy at 7.3 per cent, as reported by New York Post. However Ramaswamy's campaign has gained attention, although he still trails behind Trump and Florida Governor Ron DeSantis in support. The next US presidential election is scheduled for November 5, 2024.
Now In a major announcement ahead of the presidential election in the US, Indian American Vivek Ramaswamy has vowed to end the H-1B visa program if elected to power. Terming the H-1B Visa as "indentured servitude", Ramaswamy called it to replace the "lottery system" for an "actual meritocratic admission", adding that the US needs to eliminate chain-based migration.
"The lottery system needs to be replaced by actual meritocratic admission. It's a form of indentured servitude that only accrues to the benefit of the company that sponsored an H-1B immigrant. I'll gut it," Ramaswamy said in a statement to POLITICO.
He added, "The people who come as family members are not the meritocratic immigrants who make skills-based contributions to this country."
Notably, H-1B is a non-immigrant visa, which is highly sought after including in India. This allows US companies to employ foreign workers in occupations that require some technical expertise.
Also, these visas are highly sought after, and the demand for these workers in the US has only increased with time. For fiscal year 2021, US businesses submitted 7,80,884 applications for just 85,000 available slots, which was a jump of more than 60 per cent.
The issue also came into discussion during Prime Minister Narendra Modi's state visit to the United States in June this year. Following the meeting between PM Modi and President Biden, the US authorities announced that they will introduce 'in-country' renewable H-1B visas to smoothen the process of H-1B visa renewal for several Indians.
"It has now been decided that the H-1B visa renewal can be done in the US itself," PM Modi said during his address to the Indian diaspora.
It is pertinent to note that Ramaswamy has himself used the H-1B system in the past to hire high-skilled foreign workers for the pharma company that built much of his wealth, as per POLITICO.
From 2018 through 2023, US Citizenship and Immigration Services approved 29 applications for Ramaswamy's former company, Roivant Sciences, to hire employees under H-1B visas, which allow US companies to employ foreign workers in tech and other specialized jobs, as per POLITICO.
In the past, the Ohio-based entrepreneur had acknowledged his own experience with immigration during his opening remarks at the first GOP debate in Milwaukee.
"My parents came to this country with no money 40 years ago…I have gone on to found multi-billion-dollar companies," he had said.
Ramaswamy stepped down as chief executive officer of Roivant in February 2021, but remained the chair of the company's board of directors until February this year when he announced his presidential campaign. As of March 31, the company and its subsidiaries had 904 full-time employees, including 825 in the US.
Moreover, Ramaswamy's stance on H-1B visas is reminiscent of former President Donald Trump's campaign — whom Ramaswamy had already dubbed as the best President of the 21st century — when then-candidate Trump took a hardline stance on these foreign workers before later softening his rhetoric. As president, Trump had temporarily suspended new work visas and blocked hundreds of thousands of foreign workers from US employment, as part of his sweeping effort to limit the number of immigrants coming into the United States.
However Trump did hire a number of foreign workers under H-1B visas for his own businesses.