Washington Must Educate Its Law Makers On International Relationship And Save Them From Getting Sanctioned By Indians
By
Colonel Awadhesh Kumar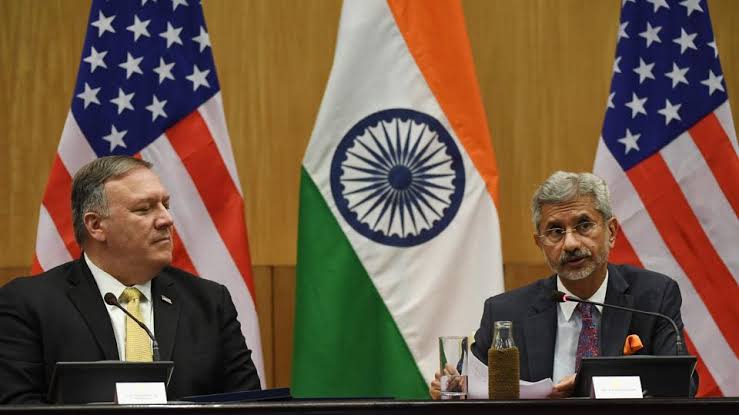 Secretary of State Mike Pompeo met with S Jaishankar on Wednesday
"My constituents care about the human rights situation, thousands of peopled detained without charges, and a communication crackdown that makes daily life more difficult," yelped,Pramila Jayapal, an Indian origin American Congress women.
Before this bleeding heart starts needing transfusion to offset blood loss, she should first visit Kansas City to find out why her fellow American Joseph Harter was beaten black and blue in his own house by law enforcement policemen acting like goons.
Instead of fabricating baseless charges against the Government of Union Territory of J&K regarding detention of "thousands of people", just for gaining some votes in her constituency.
Before giving out statements such as "It has Jimibeen extremely brutal for families in Kashmir," this Woman should first put her own America to proper order.
Without even caring to read the Indian Citizenship Law, this Jayapal character has blabbered that the citizenship law "adds a whole level of complexity to India as a secular democracy – one of the great prides of the country."
By such utterings, this Lady insults both the houses of Indian Parliament. She forgets that that these Indian Lawmakers have the backing of the majority of Indians who outnumber all the Americans present on this Planet by many a times.
The largest democracy in the world neither needs any certificate from the American from any type of American politicians nor will tolerate any lectures from such ill informed people.
No wonder the visiting Videsh Mantri S Jaishankar dished out a nice " tight slap to her face " and to those of other hypocritical friends of hers by abruptly cancelling a meeting with senior members of Congress this week after the obstinate U.S. lawmakers refused demands to exclude the congresswoman who has criticised the Indian government's policies in Kashmir and foolishly continues to do so.
The decision demonstrates India's sensitivity over the Kashmir issue as Prime Minister Narendra Modi and his Government have clearly explained to both friends and foes that this reorganization of the State of J&K and removal of Article 370 of the Indian Constitution is totally an internal affair of India. Does USA seek the permission of Indian Parliament to frame or repeal American laws ?
During his visit to Washington this week, External Affairs Minister was to meet the chairman of the House Foreign Affairs Committee, Rep. Eliot Engel, the committee's top Republican, Rep. Michael McCaul, Texas, and others, including Rep. Pramila Jayapal.
Indian officials told the committee that Shri Jaishankar would not meet with the lawmakers if the group included Sushri Jayapal, who is sponsoring a resolution urging India to lift communications restrictions, restore Internet access and preserve religious freedom. Engel refused, and so the Indians pulled out.
"This only furthers the idea that the Indian government isn't willing to listen to any dissent at all. The seriousness of this moment should've been a reason for a conversation, not dictating who's in the meeting, which seems very petty, " she uttered.
This mighty Lady was not satisfied by giving her statement on the subject to the Media but also wanted to meet and " lecture " the Indian Minister and when rebuffed is now whimpering aloud.
Probably India should have pulled out of the 2+2 talks by citing the detention of Indians crossing over into USA from the Mexican borders.
India should have also taken up the issue of Indian students being arrested by Immigration Department by fraudulently trapping them by setting up illegal colleges.
The highhandedness of the American Administration in dealing with Mexican migrants is again a matter of concern for all Indians too. We also do not like the way the travelers from Middle East are treated by the Immigration Authorities at the US Airports.
Jayapal also cites "The Internet shutdown in UT of J&K entered its 134th day on Monday, making it the longest shutdown of its kind imposed in a democracy ", according to the American Internet advocacy group Access Now.
This group is advised by us Indians to first go and analyze the way the American Homeland Security Staff has been behaving ever since they have come into existence.
Ashley Tellis, an Analyst claims to have been surprised by the decision of the Indian Videsh Mantri to cancel the meeting with the Speaker of the sanctimonious Lower house of the American Parliament.
Though Shri Jaishankar's decision to cancel the meeting should not surprise any of the analysts, a skilled statesman will not hesitate to reciprocate " insults " meted out by the other party.
However Shri Ashley Tellis seems to be quite knave when he says "It's a missed opportunity.". He is touted as an India scholar at the Carnegie Endowment for International Peace.
"Minister Jaishankar is incredibly thoughtful and articulate – and not engaging with Congress, which has traditionally been a bastion of strong support for India, is shortsighted," said Shri Tellis.
Where as he should be giving this kind of advice to his own Congress and Senate. Being a keen student of Indian mindset, he should know that we Indians do not like such BIG BROTHER attitudes and will certainly not be dictated to in this partisan manner.
In order to save the World Democracy,we will encourage the American Senators and Congressmen to have a Joint Session together with the Indian Lok Sabha and the Rajya Sabha to discuss and thrash out everything which are wrong with various American Laws as we feel and Indian Laws if they feel, as per each others perception.
Meanwhile Orchestrated Protests have spread across a few cities of India over the Citizenship Amendment Act, a law passed last week by the Sovereign Indian Parliament. The law follows the religion based tenants on which the Britishers had partitioned India.
Thus no Muslims from neighbouring countries can be seeking Indian citizenship, it will be open only for the religious minorities in those countries. The law has no bearing on any existing Indian Citizen of any religion.
The Law affects only the illegal migrants into India who have moved in for better economic opportunity. However vested Vote Bank politics has dragged this affair pertaining to North Eastern parts of India into Uttar Pradesh, Karnatka and Delhi.
Secretary of State Mike Pompeo, who met with Shri Jaishankar on Wednesday, declined to weigh in on the citizenship law. He has made the promotion of religious freedom a centerpiece of his tenure as the United States' top diplomat.
"We care deeply and always will about protecting minorities, protecting religious rights everywhere," Mr Pompeo said at a news conference. Well if Mr Pompeo wants then he can always get a bill passed to provide American Citizenship to all the Muslims in Pakistan, Bangladesh and Afghanistan who feel prosecuted by their Government or otherwise want to emigrate for better economic opportunities. He should also include the displaced Rohangiyas in this list.
It has also been reported that Jayapal after getting the rebuff from Indian Videsh Mantri plans to renew her push for the resolution in January, as if India has started shivering by this statement. Will not she be surprised if a Sub Divisional court in any of the Indian State issues a summon to this Lady for insulting the Indian Parliament ?
USA imposes sanctions of various types on other countries at the drop of a hat. So it will be nice and proper to impose sanctions on their Senators and Congressmen who try to bring Resolutions on other countries.
She said she had planned to advance her resolution on Kashmir this week but was urged to wait until after meeting with Shri Jaishankar. Now she plans to renew her push for the resolution in January. We will encourage her to do so at the earliest and see for herself that it will have not an iota of effect on the Indian Sovereign Decision.