West Bengal CM calls on governor; first meet of duo since August 15, 2020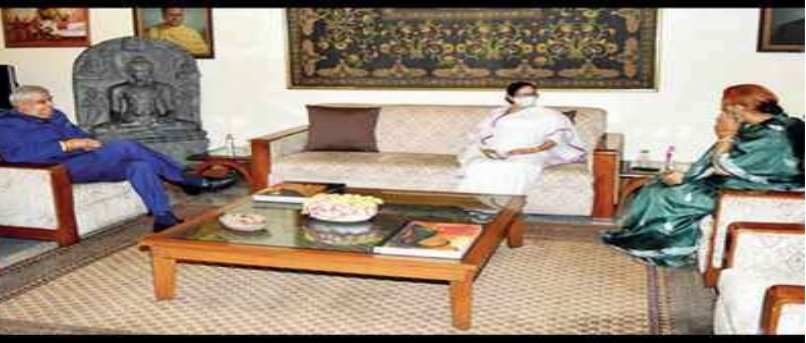 Chief minister Mamata Banerjee with governor Jagdeep Dhankhar and his wife at Raj Bhavan on Wednesday
Dated : 08 Jan 2021 (IST)
Bengal CM Mamata Banerjee called on governor Jagdeep Dhankhar at Raj Bhavan on Wednesday. The meeting — described as a "courtesy call" by both Nabanna and Raj Bhavan — was the first between Banerjee and Dhankhar since last August 15 and followed incidents indicating a Nabanna-Raj Bhavan dissonance over several issues.

Banerjee reached Raj Bhavan around 5.10pm and left over an hour later. "Myself and Mrs Sudesh Dhankhar greeted Hon'ble Chief Minister Mamata Banerjee when she visited Raj Bhavan today," Dhankhar tweeted a little later, with Raj Bhavan sharing photographs of Banerjee exchanging pleasantries with the Dhankhars.

Banerjee did not speak to reporters while driving out of Raj Bhavan. No state gov-ernment official was present during the meeting.

The meeting, which followed Dhankhar's return from a visit to Tamluk, East Midnapore, came a week after five Trinamool Congress MPs wrote to President Ram Nath Kovind, asking for a "recall" of the governor. The MPs cit-ed 34 of Dhankhar's acts that they claimed "violated" Sup-reme Court constitutional bench judgments and appealed to Kovind to act against Dhankhar for his acts of "omission and commission".

Dhankhar himself has been critical of governance issues in Bengal and has referred repeatedly to the "law-and-order situation in the state". On Wednesday, too, he referred to Article 167 of the Indian Constitution to stress that it was the CM's "duty" to communicate all administrative decisions to the governor and respond to information sought by the governor.
Officers facing probes themselves could not probe others because it violated the principles of natural justice, Dhankhar said, and criticised the attempt to brand Indian citizens as "outsiders" in Bengal.