When the big one hits, what will you do? Some advice from Japan on earthquake survival
This Mainichi Shimbun illustration is titled, "When a major earthquake strikes."
The Mainichi Shimbun has put together information advising what you can do when a major earthquake strikes, including how to protect yourself physically and stay in touch with family.
If it hits when you're at home: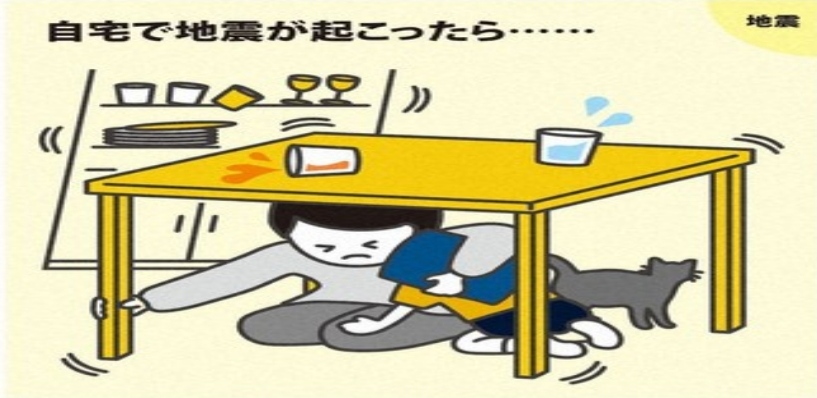 This Mainichi Shimbun illustration shows what to do if an earthquake strikes while inside your home.
Protecting your physical safety is the first priority. Remain calm — panicking can lead to injury. Once you sense the earthquake, take cover under a sturdy table or desk and cover your head with a cushion or other objects. Watch out for pieces of furniture that may fall over or glass and dishware that may break and lead to injuries.
If you live on the upper floor of a high rise, be prepared for the shaking to last longer. Due to long period ground motion, very tall buildings can experience significant shaking even if the epicenter is hundreds of kilometers away.
In most households in Japan, the gas will shut off automatically once an earthquake is detected. It's important not to rush when checking for fire hazards. In some cases, it's better to wait for the shaking to settle down before turning off the gas or other potential sources of fire. This is because it's possible for cooking pots and other items to fall and cause burns. Also, keep doors and windows open to ensure access to exits.
If it hits when you're not at home: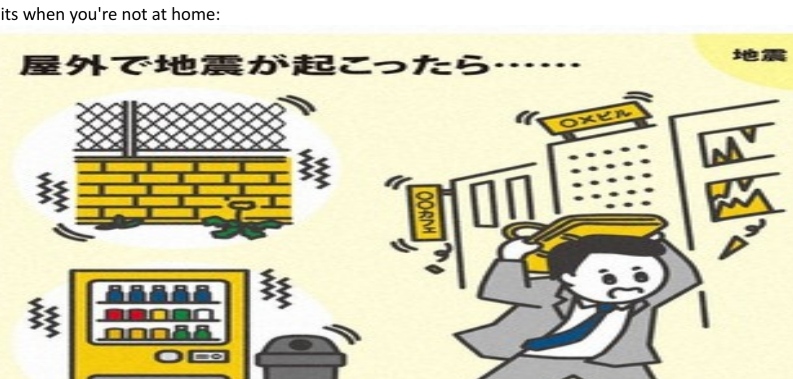 This Mainichi Shimbun illustration shows what to do if an earthquake strikes while outside of your home.
In crowded buildings, lots of people may rush for the stairs and exits. It's best to move carefully and follow the instructions of any officials. If you're in an elevator, hit all of the buttons to get out at the nearest possible floor to avoid getting trapped inside.
Whether inside or outside, remain cautious about falling objects or large things toppling over.
Stay away from things that may topple such as fences and vending machines. Exterior features of buildings such as tiling, windows and signs could fall, so maintain distance from these as well.
If riding public transportation such as a bus or train, crouch down or hang on to the nearest seat, bar or strap to prepare for an emergency stop. If driving, slow down, turn on your hazard lights and pull over to the left, then shut off the vehicle's engine. If an evacuation is necessary, leave the engine key as it is and the vehicle's doors open so that it can be moved, keeping the roads from getting jammed. In that case, it's a good idea to leave behind a note with your contact information.
How can one stay in contact with family?
It's possible you won't be able to make phone calls after a disaster due to transmission limits. In such a case, using social media or email is said to be an easier way to contact people. Since you may not be able to charge your phone as usual, it's best to keep a power bank handy and lower the brightness of the screen.
There is a "Disaster Emergency Message Dial" relay service made available by telecommunication companies in the wake of major disasters. This allows people to confirm each other's safety using recorded messages. To use this service, dial 171. Following the voice instructions, dial 1 to record a message or 2 to listen. Complete instructions in English can be found on Nippon Telegraph and Telephone East Corp.'s website. An online, text-based version is also available at Web171. By registering your phone number and message into either of these systems, others who know your number will be able to check on your safety.
Several phone carriers also offer text-based emergency message relay systems. These include NTT Docomo Inc., KDDI Corp., and SoftBank Corp. NTT Resonant Inc. provides a page that searches all of these services, along with Google's Person Finder.
Another option is to post a note on your door telling others that you're safe and where you're sheltering.
When evacuating or trying to go home:
People are seen taking refuge at a hall that was opened for those who were unable to return home following the March 2011 Great East Japan Earthquake, in Yokohama's Nishi Ward on March 11, 2011. (Mainichi/Takashi Morita)
Evacuate when your local government issues an evacuation order, but don't hesitate to immediately do so when danger arrives. Evacuation center locations can also be found on the official website of the local government.
As a general rule, walk, don't run. To avoid crowd crushes, consider waiting nearby.
Traffic jams can be expected, so it'll be best to avoid driving. You could end up stranded if you attempt to make it home no matter what. Some local governments offer information on temporary shelters for people who cannot directly return home on their website. These facilities are different from ordinary evacuation centers. Some governments only announce the locations of temporary shelters after a disaster has struck. In some cases, facilities may be full or not in use due to damage from the disaster or other reasons, so be sure to check ahead of going.
Don't be misled by gossip or false information. Don't find yourself depending on unreliable information circulating over social media.
Official disaster prevention information is available from governments and organization.
In case a tsunami is on the way:
If a tsunami alert is issued, quickly get away from coastal areas and reach higher ground. Tsunamis are extremely fast; if you can see it, it may already be too late to escape. Move away from rivers perpendicularly.
If a tsunami is expected to develop, the Japan Meteorological Agency (JMA) aims to issue advisory and warnings within approximately three minutes of a major earthquake. If the quake is especially powerful, over magnitude 8, the initial warnings from the JMA will convey the expected tsunami's scale using terms such as "tall" or "extremely large." In these cases, waste no time and evacuate as soon as possible.
If the earthquake's epicenter is close to land, advisories and warnings may not arrive in time. The JMA recommends preparing for an evacuation as soon as strong shaking or weak but long-lasting shaking occurs. People who live near the coast should look up information ahead of time, such as points of high ground in the area and the expected tsunami height.
Offshore, tsunamis can reach speeds of 800 kilometers per hour, about as fast as a jet. Even as they slow down when hitting the coasts, they maintain a speed of 30 to 40 kilometers per hour, so it is impossible to run away once one has approached.
Tsunamis are incredibly powerful. If the wave height is 0.2 to 0.3 meters offshore, there's a risk of getting caught in their current. If the waves arriving onshore are around 0.5 meters, it's possible for buildings to be damaged by objects such as boats and pieces of wood brought along in its flood.
Tsunamis cause rivers to reverse course. Accordingly, if you live near one, evacuate in a direction perpendicular to its flow.
How can one stay prepared?
Decide with family members on ways to contact each other. Speak with your family regularly about how you'll let each know you're safe, where to evacuate, and similar topics. Decide which message relay service you'll use.
Keep a pair of slippers and a flashlight close to where you sleep to avoid injury from pieces of broken glass and other things. Keep at least three days' worth of food and water stored in your home. Ready a bag full of essential supplies to bring with you in an evacuation. After the earthquake has struck, critical infrastructure could be unavailable in your area and you may have to stay at home for an unknown length of time. Portable stoves and toilets could come in handy.
This article was created using information found on the websites of the Fire and Disaster Management Agency, the Tokyo Fire Department, the Metropolitan Police Department, the Tokyo Metropolitan Government, the Ministry of Internal Affairs and Communications and the JMA.