Who's backing Ukraine's EU candidacy?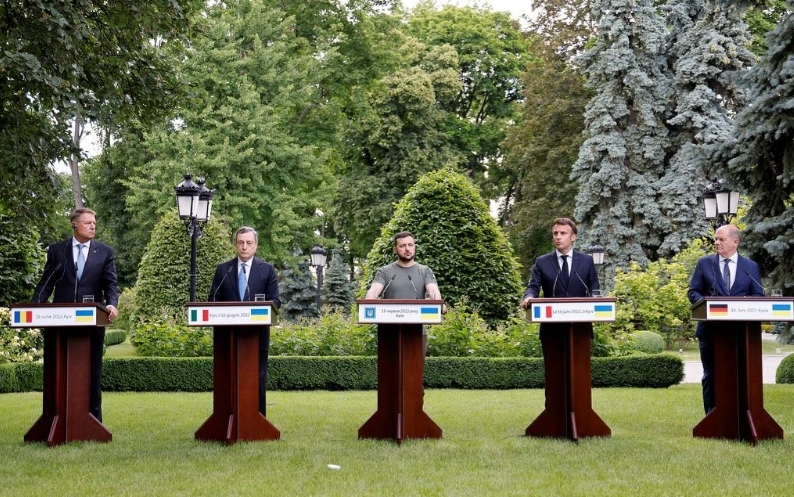 Romanian President Klaus Iohannis, Italian Prime Minister Mario Draghi, Ukrainian President Vladimir Zelensky, French President Emmanuel Macron and German Chancellor Olaf Scholz
France, Germany, Italy and Romania back immediately granting Kiev EU candidate status, French President Emmanuel Macron said after a meeting with his Ukrainian counterpart Vladimir Zelensky in Kiev on June 16. He was speaking at a joint news conference attended by German Chancellor Olaf Scholz, Italian Prime Minister Mario Draghi and Romanian President Klaus Iohannis.
At a meeting on June 17, the European Commission is expected to support Ukraine's accession bid, and EU leaders should approve the decision at a European Council summit set for June 23-24, Vedomosti writes.
The position shared by the three largest EU countries certainly gives weight to Ukraine's chances for getting EU candidacy, Artem Sokolov, a researcher at the Moscow State Institute of International Relations' Center for European Studies, told the paper. And yet the consolidated stance of the aforementioned EU big-hitters does not mean Hungary, Slovakia and the Netherlands might not be opposed to granting the status, since they have doubts about Ukraine's EU prospects, the expert said.
And the process could still take long, for chances remain that Ukraine will fail to get EU candidacy at the European Council summit on June 23-24, said Pavel Timofeev who heads the European Political Research Department at the Institute of World Economy and International Relations. Surely, the three key EU members could speed up the process to make Kiev's wish come true, but they might face opposition from the Balkan countries and Turkey which have been stuck in their European integration for many years and for many decades respectively, he added. As for territorial concessions, the EU would push for Ukraine's territorial integrity until the situation on the frontlines becomes disastrous, Timofeev concluded.