Agnipath will help the nation move forward
By
Colonel Awadhesh Kumar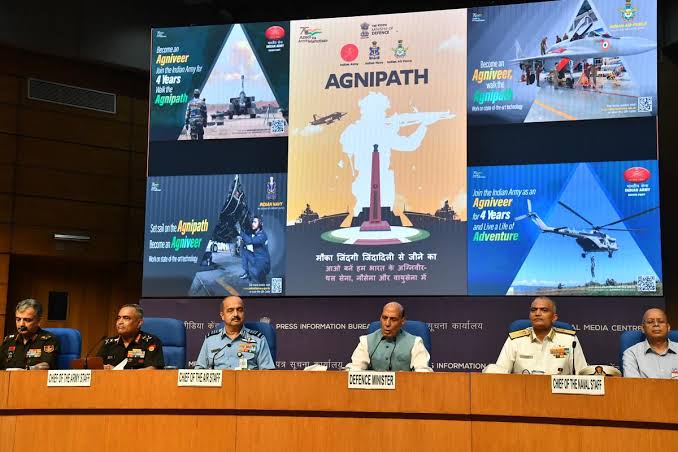 Agnipath has been in the making ever since an Army Reorganization Committee under the Chairmanship of then Lt General K V K Rao ( later General and COAS) had made a carefully studied recommendations to the Government. Most of the points had been eventually got implemented also.
Some are of the view that Agnipath Scheme to recruit the Other Ranks (Soldiers, Sailors and Airmen) should have not been done in haste but should have followed a Pilot Project first. Such people should be aware that the thing done in haste was actually the replacement of 7 years Colour Service with 15 years Pensionable Service. That was probably done as a sort of reward in the aftermath of 71 War Victory.
The 7 years Colour Service was more or less akin to the TOD less the generous amount which now will be given as the Lump Sum severance package.


After a very long procrastination since last 15 years, when the Pension Packet of the Armed Forces crossed the Pay Package, the Government has finally announced the new scheme the Agnipath through which recruits will join the Army, Navy and Air Force but only for four years initially. There won't be any pension to the people under Agnipath.
After four years the entire batch will leave and fresh recruitment of 25 percent from them will be done to serve permanently, for 15 years or more. At present the soldiers join for a minimum of 15 years and they get pension while leaving.
Some retired Generals have even said that " Why disturb something which is not wrong. Don't fix what isn't broken Tour of Duty/ Agnipath." Well most of our weapons systems will work equally well even now if handled properly, so why change them? They should know that only constant in the Armed Forces is CHANGE.
A similar hue and cry was made when the Armed Forces had changed over from English Words of Commands in the Drill Squares and other Parades to Hindi Words of Command. Even at that time Some had similarly said that the very safety of the Nation had been placed at huge risk.
This Agnipath scheme is transformational and will benefit not only the Armed Forces but also the Civil Government departments and the Corporate Sector later on. The Country will benefit immensely. The existing average age profile of the frontline Soldiers will come down to just about 26 years from the present 32 years. Further the quality of 25 % of the Tour of Duty soldiers who will get re recruited for permanent service will be superb. Their screening will be done afresh based on tested performance and reports of last four years.
These retained soldiers will be highly capable to handle Technologically superior weapons, more adept to handling future wars, will be able to lead the small team actions at the Non-commissioned officers level once they reach that stage and therefore the entire Army will be more battle ready than it is now.
There are a few veterans who are lamenting on the loss of Regimental Spirit, Ethos, Naam Namak and Nishan because of the new system. Firstly they forget that the system being introduced now was the system prior to 1971. Similar recruits had fought for the British Indian Army in WW1, WW2 and later defended India in 1947-48, 1965 and 1971 and won all the wars for us.
After the end of First World War, a very senior British General had remarked that "thank God war is over, now we can go back to serious soldiering". Then came 1939 and the serious soldiers of the British Army had to face the Dunkirk Moment. Thereafter it was the AGNIPAATH types who got recruited, landed at Normandy and finally reached Berlin. Even during Kargil War, the majority of the soldiers who took back the peaks from the Pakistanis were those with less than 5 years service.
The Naysayers must also re read the Article 51 A (d) of the Indian Constitution which states Article 51A in The Constitution Of India 1949
51A. Fundamental duties It shall be the duty of every citizen of India
(a) to abide by the Constitution and respect its ideals and institutions, the national Flag and the National Anthem;
(b) to cherish and follow the noble ideals which inspired our national struggle for freedom;
(c) to uphold and protect the sovereignty, unity and integrity of India;
(d) to defend the country and render national service when called upon to do so;
(e) to promote harmony and the spirit of common brotherhood amongst all the people of India transcending religious, linguistic and regional or sectional diversities; to renounce practices derogatory to the dignity of women;
(f) to value and preserve the rich heritage of our composite culture;
(g) to protect and improve the natural environment including forests, lakes, rivers and wild life, and to have compassion for living creatures;
(h) to develop the scientific temper, humanism and the spirit of inquiry and reform;
(i) to safeguard public property and to abjure violence;
(j) to strive towards excellence in all spheres of individual and collective activity so that the nation constantly rises to higher levels of endeavour and achievement.
Now Agnipath or Tour of Duty is certainly fulfilling the need of 51 A (d) by giving an opportunity to those who desire to fulfil their National Duty. There are many who wish to serve in the Armed Forces but not for 15 years. Here most of our enlightened Veterans and Experts are confusing between the quality Western Armies forced Conscripts (serving 18 months to 24 months) and our volunteers of Agnipath (who will be recruited only through a selection process as there will be no dearth of volunteers). Quality of volunteers will be as good as ever.
Presently in a year an infantry battalion has a turnover of 25% ie 200 men. Out of this there are around 30 recruits and rest are those returning from Extra Regimental Duties. In TOD a unit is likely to get 20 recruits in the first year. So each Rifle Company will get around five of them. Any Rifle Company from any Regiment should easily be capable of imbibing everything worth its name within one year into each of these youngsters for life.
Those fearing Militarization of our society by 30000 disgruntled youths going out of the Army are only twisting facts. These are the youths who are leaving not because they are being kicked out but leaving because of their own free will. They do not want to continue to serve for another 11 years or more.
The TOD in fact will channelize the energy of the youth of the nation, they will be more disciplined and they connect to the nation better. That will happen through this scheme, they to don the uniform with dignity and honour and thereafter continue to respect it.
Option to be retained severance package of more than 11.5 lakhs and their intake outside will not remain limited to guard duties which have been the pattern but will be taken at higher positions.
Yes, as a next step the Government must make this TOD either compulsory or give atheist 70% weight age for all jobs under the Central Government, State Governments and the Public Sector Undertakings.