Bharat likely to supply Varuna drones to Aussie Navy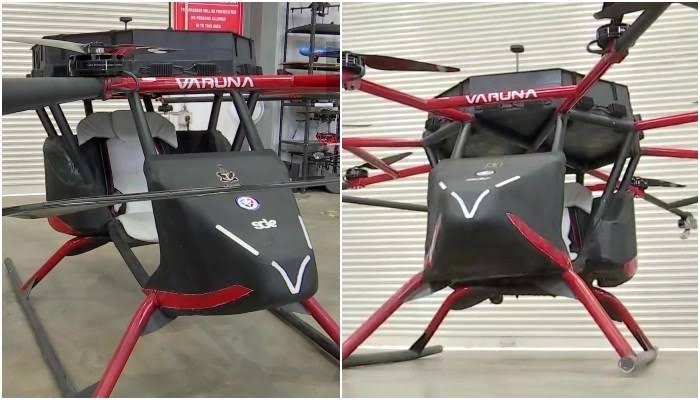 Atmanirbhar Bharat has set a target of INR 42500 Crores in exports for Indian firms by 2025. This has led to both public and private sector firms seek international customers to achieve the objective.
When PM Albanese came to India, he was taken to INS VIKRANT for a visit and he was quite astonished to actually see what Bharat was capable off. His worries regarding the safety of Aussie Isles must have reduced by several notches if not vanished completely. Yes, Bharat is capable of restoring freedom of Navigation in both the Indian Ocean and the Indo Pacific.
Now Aussie Navy is closely looking at made-in-India drones and negotiations have started. The drone firm with help of Indian Navy has developed its products, including the human-carrying 'Varuna' drone which was showcased an event and even seen by the Prime Minister.
"The firm is negotiating the project with the Royal Australian Navy through their local partner to sell them the made-in-India Varuna drones," senior Navy officials told India Today TV. The Indian Navy has been supporting and pushing the 'Make-in-India' initiative in the defence sector in a big way and has lent support to the private sector in developing their products.
The Indian Navy has already placed orders for these drones, for embarking on large-size warships, including the new aircraft carrier INS Vikrant. These drones are capable of carrying both personnel and cargo and therefore will be very useful various types of operations including replenishment activities. The cost compared to a helicopter sortie will be quite low.
The Varuna drone, can even carry a human payload, has a range of 25 km with 130 kg payload. It has around 30 minutes of flight endurance. The drone manufacturer's chief, Nikunj Parashar, confirmed that his firm is in talks with the forces for the sale of drones.
He said he had received huge support from the Indian Navy in the development of his drones, which are being inducted into the Indian defence services now. The Navy provided its own platforms to help develop the products, he said, adding that his firm could develop a multi-copter named Spotter which can remain airborne for two hours for surveillance with the Navy's help.
It was during one of the industry visits by the Vice Chief of Navy Staff that the defence forces encouraged his firm to work for the military sector and develop a personnel-carrying drone for the Navy, Parashar said. The Navy has been working on the IDex program to promote indigenous defence technologies and this has been a great success for the Navy.
"The prime minister launched 75 challenges. We have really expedited and done this job. We thought that if we have to achieve success, we have to do things differently. We have made our procedures simple so that we can take these cases ahead. We are sure that by August 15, we will achieve our target as promised to PM Modi," Navy Vice Chief Vice Admiral SN Ghormade said recently.