Girmityas children of Bharat : Pepper roti a hot seller in Diwali Festival of Trinidad & Tobago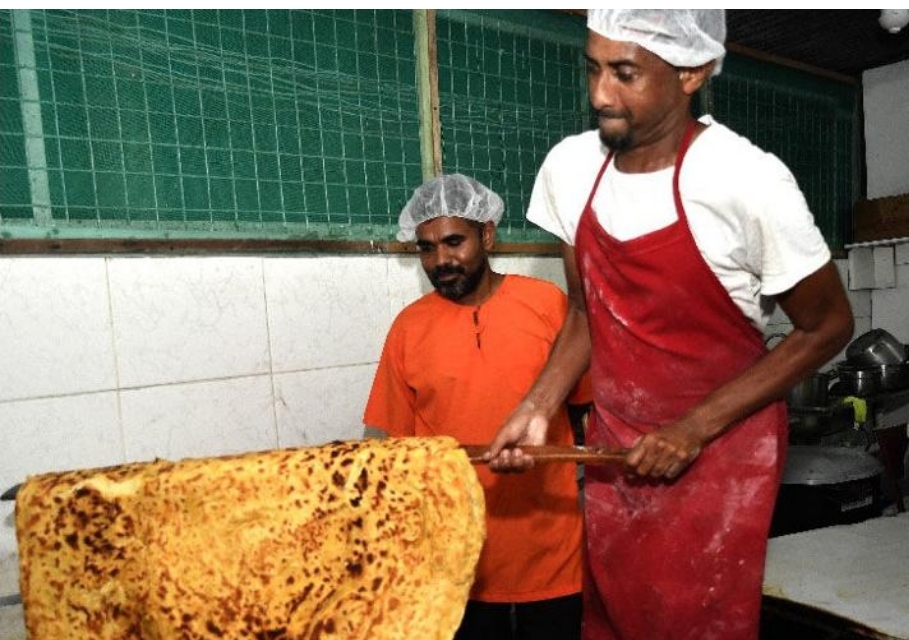 Diwali Nagar 2022…
Three feet diameter pepper roti
Note: sada roti in Trinidad & Tobago is what chapati or roti is in India. It is eaten for breakfast or dinner with a variety of vegetarian, fish or meat dishes–including curries or stews. Whereas Pepper roti is a delicious take on a stuffed roti, made by sandwiching a well seasoned spicy potato filling between 2 flaky rotis, and cooking it on a hot tawa or griddle until crisp and cooked through. It is a favourite street food,
What's the most sought-after food at Diwali Nagar? Pepper roti, of course!
Delicious slices of pepper roti, with dollops of roasted coconut chutney, and colourful Indian clothing like saris were among the hot sellers at the National Council of Indian Culture (NCIC) Diwali Nagar site, Narsaloo Ramaya Marg, Endeavour, Chaguanas, on Monday night.
However, scenes like the bumper-to- bumper convoys leading to the venue were absent. In the festive background, illuminated with artificial lights and transparent balloons, patrons were not spotted jostling each other for the best bargains, like in previous years.
Diwali Nagar boasts of a dizzying array of items to choose from, including footwear, jewelry and household items, but not much trade was taking place. Nevertheless, a feeling of happiness pervaded the atmosphere that the celebrations had returned after a two-year hiatus. More importantly, merchants, customer service representatives and guests were a tad optimistic business would pick up within the next few days.
On Saturday night, NCIC president Deokinanan Sharma lit the ceremonial deya to officially open Diwali Nagar 2022, themed "Hindu Panth." During the nine-night event, patrons, making their way past the criss cross of deyas perched on bamboo work, will be treated to a buffet of song, dance, folklore traditions and Indian literature. As expected, kiosks showcasing businesses at home, and the Caribbean and Indian diasporas, held a place of honour.
The chief guest for Diwali Nagar 2022 is Pandit Dr Rampersad Parasram–Dharmacharya. In his final address as NCIC president, Sharma said the Diwali Nagar was hosted virtually for two years but citizens were eagerly awaiting the return of the physical celebration.
Pepper roti at $22 a slice
At the popular Blue Birds Sports and Cultural Group food booth, outgoing president Gowtam Maharaj, who hails from Barrackpore, said: "It's nice to be back out after two years. People are passing by and giving us a hug and a kiss. It's nice to know we were missed. People are coming for the pepper roti. It's about $22 a slice. We serve it with roasted coconut chutney. We even have sada roti with chataigne and locally grown eddoes from the volcanic ash in Moruga. We are farmers. So we grow some of our fruits and vegetables."
Asked about sales, Maharaj said more people are prudent with their spending. "They are coming and buying a slice of roti. But they can't afford a drink. It's not like before when people would just order roti and after you would tabulate (the cost). They would pay any amount. They are looking and then coming back. A few businesses have folded up. Some of the bigger restaurants are here still," he said.
On the countdown to Diwali on Monday, Maharaj said: "The last three days are bumper days. We are now coming out of Covid-19. It might pick up."
Food vendors were also doing fairly brisk sales with Indian delicacies like saheenas and potato pies at about $8 to $10 each.
Both Maharaj and incoming president Andy Harripersad invited the Express team to observe the pepper roti-making process in the kitchen.
The "beauty" is about was three feet in diameter and could feed about 30 people. Mercilessly, Harripersad hits the pepper roti with an elongated dabla (wooden stick).
Then, right on cue, Harripersad flips it over. Then after about a minute, he cuts it into squares like a pizza. Waiting for the "acid test" were another six massive mounds (loys) of flour. Another volunteer Dave Harripersad places the potato filling into the dough, and proceeds to roll it into an edible circle with the rolling pin (bilna).
Boasting about the much sought after pepper roti, Maharaj said it's different. Like a paratha, adding there's even pineapple in the potato.
Chiming in, Harripersad said: "We grew up in farming. I grew up looking at people make pepper roti. Now I am making it myself. I am also focusing on rehab for alcoholics and their affected families. Both Maharaj and Harripersad paid kudos to about 100 volunteers who ensure the operations work smoothly.
Maharaj said: "We have 25 people on site. Another 25 at home and about five to six to run errands like go for gas. It's about 100 daily. We had Ramleela. But we did not get any Ramleela money. We are appealing for more help from the State. Diwali Greetings to everyone."
High prices lament
Having made the trek from Port of Spain, graphic designer Candice Inniss, her husband John Paul and mother Rose Lee Kim, a first-time Nagar visitor, stopped by for pepper roti.
Inniss said: "I like Blue Birds pepper roti. I like pepper."
Lee Kim added: "I am enjoying it. I bought outfits for her grandchildren."
Comparing her visit to other years, Inniss added: "There are less booths for clothes and shoes. Limited choices. A lot of them have card machines now. I bought an outfit for about $300 for the office. I might go back with a friend. I found the parking has improved."
Another customer added: "A whole pepper roti anywhere is about $300. Better you buy a box of groceries."
St James-born Ramon Ramesar, who is based in New Jersey, USA, said he always comes home for Diwali, Carnival and Christmas.