India, Egypt bilateral trade to increase to INR 1020 Kharab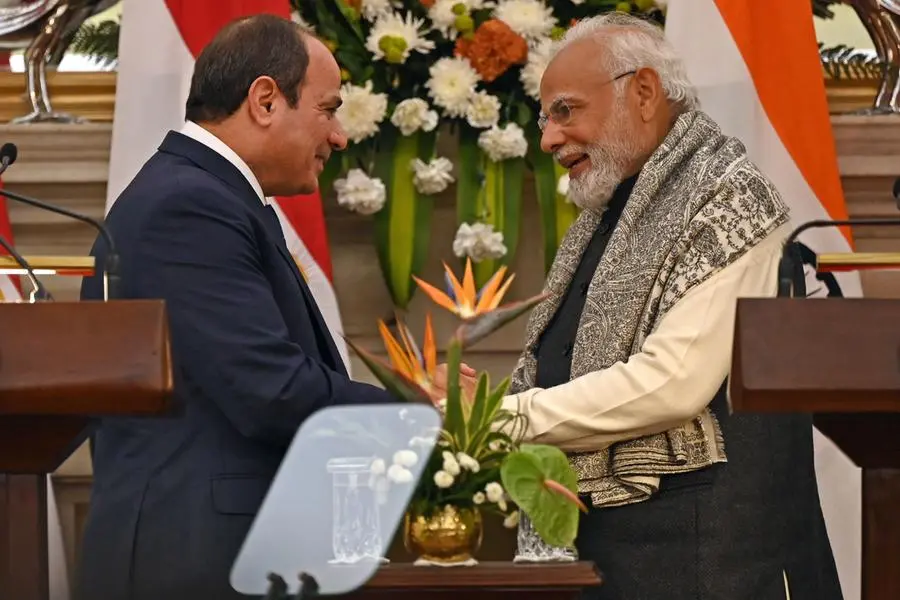 India and Egypt on Wednesday elevated their relationship to Strategic Partnership covering political, security, defence, energy and economic cooperation with the two countries agreeing that concerted action is necessary to end cross-border terrorism.
Egyptian President Abdel Fattah El-Sisi, held discussions with Prime Minister Narendra Modi on Wednesday and the two countries decided to take bilateral trade to INR 1020Kharab in the next five years.
The two leaders also held extensive discussions on strengthening the food and pharma supply chains affected by the COVID and the Ukraine conflict.
After his talks with the Egyptian leader, the Prime Minister said India and Egypt are worried about the spread of terrorism happening around the world.
"We are unanimous in the opinion that terrorism is the most serious security threat to humanity. Both countries also agree that concerted action is necessary to end cross-border terrorism. And for this, together we will continue to try to alert the international community," PM Modi said.
He said there is also immense potential for enhancing security and defence cooperation.
"In the last few years, there has been a significant increase in joint exercise training and capacity building between our armies. We have also decided in today's meeting to further strengthen cooperation between our defence industries, and enhance the exchange of information and intelligence related to counter-terrorism," he said.
The two countries also decided to extend cooperation against misuse of cyber space to spread extremist ideologies and radicalization.
"We also agreed on the need to increase mutual investment and trade in these areas. Together we have decided that in the next five years we will take our bilateral trade to 12 billion dollars," PM Modi said.
Noting that India and Egypt are among the oldest civilizations in the world, PM Modi said the two countries have had a continuing relationship for thousands of years.
"More than 4,000 years ago, trade with Egypt used to take place through the Lothal Port of Gujarat. And despite various changes in the world, our relations have been stable, and our cooperation has been continuously strengthened," he said.
"Our cooperation has deepened in the last few years. And for this, I would like to give a huge credit to the able leadership of my friend President Sisi."
This year, India has invited Egypt as a guest country during its G-20 Presidency, which reflects our special friendship.
"At one side of the Arabian Sea is India and on the other side is Egypt. Strategic cooperation between the two countries will help in promoting peace and prosperity in the entire region. So in today's meeting, President Sisi and I decided to elevate our bilateral partnership to the level of 'Strategic Partnership'."
He said under the India-Egypt Strategic Partnership, the two countries will develop a long-term framework of greater cooperation in political, security, economic and scientific fields.
Noting that the world has closely observed the adverse effects on healthcare infrastructure and global supply chains during the Covid pandemic, PM Modi said India and Egypt have sent each other immediate assistance in times of need.
"We commend Egypt for successfully hosting COP-27, and for its efforts to ensure the interests of developing countries in the climate sector. India and Egypt have had long and excellent cooperation in the United Nations and other international forums. We both agree on the need for diplomacy and dialogue to resolve international disputes," he said.
PM Modi noted that a military contingent from Egypt will also participate in the Republic Day parade.
India and Egypt exchanged MoUs in the fields of cyber security, culture, information technology, youth matters and broadcasting.
PM Modi and President Sisi also witnessed the release exchange of commemorative postage stamps to mark the milestone of 75 years of the establishment of diplomatic ties between India and Egypt.
Briefing reporters about the meeting between PM Modi and President El-Sisi, Foreign Secretary Vinay Mohan Kwatra said both leaders strongly condemned the use of terrorism by the country as a foreign policy instrument and called for zero tolerance of terrorism.
"And for all those who encourage, support and finance terrorism provides sanctuary to the terror group, whatever their motivation may be."
India has faced the problem of cross-border terrorism from Pakistan.
"Given the commonality of challenges of terrorism that both India and Egypt face, the two leaders also emphasized the need for concerted and coordinated action by literally between the two countries to see how our cooperation can become more broad-based deeper in the field of terrorism and how we can also together join hands in the larger international platforms to ensure that international communities come together to act against the challenge of terrorism in all of its forms and manifestations," Kwatra added.
In his remarks, the Egyptian President said trade and investment and cooperation in green hydrogen and renewable energy sectors figured in the discussions with PM Modi.
"I am going to take part in the Republic Day parade. I am thankful to PM Modi for such a grand welcome. During our discussions, we talked about trade and investment and how to further expand our cooperation in import and export," he said.
"We also discussed cooperation in Green hydrogen and renewable energy sectors. India and Egypt are old cultural civilizations. The issue of connectivity was also discussed between the two countries in order to boost tourism," he added.
External Affairs Minister S Jaishankar also held a meeting with Egyptian President Sisi. President Droupadi Murmu hosted a banquet in honour of the Egyptian President.