Indian Consulate in Brisbane attacked by Khalistanis : Australia must wake up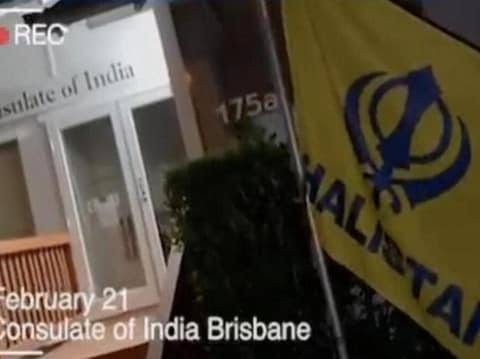 Australia Today reported the attack on the Consulate of India located on Swann Road in the Taringa suburb of Brisbane in Australia's Queensland by Khalistan supporters on the night of February 21. This is certainly a disturbing development and is now being repeated too often in Australia.
Till now, there have been no attacks on Indian or Indian Australians. For now, the target have been institutions belonging to the Indian government. This is a direct attack on the Government of India when the Indian Consulate in Brisbane is attacked (by Khalistani elements), J Bhardwaj, Editor, The Australia Today said while speaking to ANI.
Honorary Consul of India in Brisbane Archana Singh found a Khalistan flag attached to the office when she arrived on February 22.The Queensland Police was informed immediately, and it confiscated the flag and ensured that the Indian Consul was not under any immediate threat. The police authority and the police have taken the area under surveillance to keep them safe.
"The whole Indian Australian community is working together so that what happened in Melbourne is not repeated," added Consul Singh.
The Australia Today reported that External Affairs Minister S Jaishankar and his deputy Minister V Muraleedharan's visit to Sydney and Melbourne had rattled the USA and Canada-based Khalistani propagators. So, on the same day, Khalistan supporters vandalised two Hindu Temples while celebrating their religious festivities of Mahashivratri.
Emboldened by the inaction of Australian security agencies and respective state police authorities, Khalistan supporters called Sydney Murugan Temple's Director – Assets & Environment A. Poopalasingam and Director – Educational Activities T. Sinnarajah and threatened them to raise Khalistan slogans or face the consequences, the Australia Today reported.
Sydney Murugan Secretary D. Gnanaratnam told The Australia Today, "I also received the phone call but was at my work so disconnected it immediately."
In the second largest city of Australia, Melbourne where the Hindu population is one of the largest in the country the Khalistanis targeted Hindu religious places. Earlier in January, the vandalism of the historic Shri Shiva Vishnu Temple in the Carrum Downs suburb of Melbourne by Khalistan supporters was on the occasion of three days long "Thai Pongal" festival.
Hindu Council of Australia's Victoria chapter President Makrand Bhagwat told The Australia Today, "I can't tell you how upset I am for witnessing Hindu temples being threatened with Khalistan propaganda."
"Targeting our temples is deplorable and should not be tolerated by the wider community, he added.
Indian High Commission in Canberra said that "High Commission of India has taken up the issue with relevant Australian authority for necessary action."
Australian Foreign Minister Penny Wong will be in New Delhi this week to discuss defence and security collaboration and will be suitably counselled regarding India's concerns. Australia must wake up because such things may lead to severe disruptions of our growing trade and commerce.