Indian Navy's choice : Rafale – M the best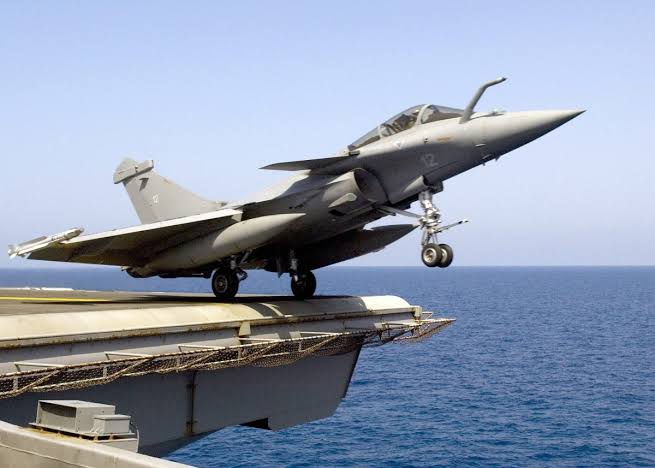 By
Colonel Awadhesh Kumar
The French built Alize was certainly not the fastest and deadliest naval aircraft in late 1950s but it suited the Indian Navy the most. They were used for reconnaissance and patrol during 1961 liberation of Goa. Then they were used for ASW patrol in Bay of Bengal during Liberation of Bangladesh, during which It also sank three Paki gunboats and one Alize was shot down by an USA supplied PAF F104 Starfighter. Nevertheless, they were employed that year in support of the IPKF in Sri Lanka, and even helped in Maldives operations by crippling the rouge merchant ship Progress Light.
Similarly INS Vikramaditya was not the best Aircraft Carrier when we negotiated for its purchase, in fact it was not even an aircraft carrier as it existed at that point of time. However at the price bought and the time frame it was finally delivered, it was the best deal which India could get from any country capable of making an aircraft carrier and more important…willing to sell to us. Same goes for the MiG 29 M fighters purchased with the Vikramaditya. Both have served us well and will serve for a long time. Together they will beat the hell out of LIAONING or SHANDONG if they dare to confront them in the Indian Ocean….no one should have any doubt over this.
Out of the three competing naval fighters the Russian Mikoyan MiG-29 K fighter, the French Dassault Rafale-M fighter, and the American Boeing F/A-18 E/F Super Hornet fighter, the Russian was the first to be eliminated because of its vintage design. It is based on MiG29 M fielded in 1980s and of these India has 41 left as four have crashed. India also has around 60 MiG 29 with the IAF which are getting upgraded and life extended to serve till 2035. Another 21 of MiG29s have been bought and are being upgraded in Russia.
By 2030, HAL should be flying the first of the prototypes of Naval TEDBF but they will go in production and be available in sufficient numbers only for the new indigenous INS Virat entering service by 2032 and later the third indigenous aircraft carrier which will certainly be over 75000 tons and nuclear powered. Hence to fully keep Vikrant equipped at all times we certainly need around 26 new naval fighters. The two candidates remaining are the French and the American fighter. Till they arrive the formidable MiG29 K will be holding the fort. Therefore neither the Americans nor the French should even dream that India is getting influenced by either. Indo Russian friendship is long lasting and Ukraine conflict has shown that.
To win the Indian order the Boeing developed a so called Indian version of F/A-18 E/F Super Hornet. This version, for the first time took off from a short runway similar to Vikrant's deck. Then, on June 15 of this year, the Super Hornet performed a short take-off and landing armed with two AGM-8 the Vikrant's mock up deck at Goa.
On the other hand, France which knows that India is the new rising World Power is more flexible in accommodating Indian requirements. So it will be ready to produce them locally along with another 36 to 72 Rafales for the IAF. Also they are ready to supply a few off their squadrons in service with the French Navy. Whereas the Americans have shown no inclination to produce Hornets in India but wish to foist the obsolete F21 instead.
Atma Nirbhar Bharat wants every major military hardware still to be purchased from abroad (for at least a few years more) for the country to be at least 50% domestically produced. "Made in India" is a government program that is going to be strictly followed and Dassault is already at it. Also the naval Rafale will be in a way augmenting a very high-quality aircraft in the form of the 36 x Dassault Rafale with the IAF. So purchase of French naval Jets will be more beneficial to India.
Another fact should be noted in favour of France. The fighter that India produces, the Tejas, follows the French Rafale design line. It is no secret that French know-how has been integrated into Indian aircraft as well as some French components and parts. France is also eagerly cooperating with India in matters submarine, whereas we already hear a big fall out in matters of Nuclear Submarine deal within the much touted AUKUS. Now Australia must be ruing the day they decided to reject the conventional submarine deal with the French.
Very soon we will have the official information on who is the winner between the Rafale-M and Hornet. Boeing F/A-18 E/F Super Hornet though in competition is losing day by day because of various American actions. The most recent is their fresh kowtowing with Pakistan and the resumption of their military aid to the Pakis.
So keeping all factors in mind, there is no doubt that he French naval fighter jet Rafale-M will be selected for service on the Indian aircraft carrier INS Vikrant.