Japan, S. Korea should build a new future of cooperation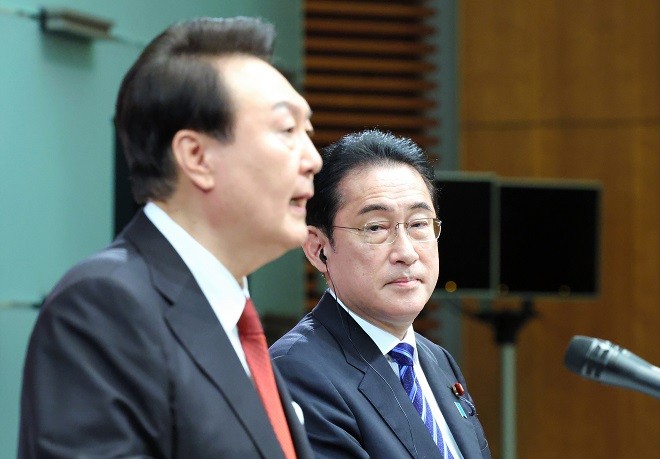 Prime Minister Fumio Kishida, right, listens to South Korean President Yoon Suk-yeol speak at their joint news conference in Tokyo on March 16.
Although it takes only two hours to fly from Seoul to Tokyo, it's been more than 11 years since a Japanese and South Korean leader have met specifically for a bilateral summit in their countries. 
South Korean President Yoon Suk-yeol traveled to Japan on March 16 for talks with Prime Minister Fumio Kishida.
The two leaders should build on the diplomatic momentum created by their meeting to bring a long-overdue end to the corrosive stagnation in bilateral summit diplomacy and start meeting frequently to discuss a mutually beneficial future for their nations.
Mutual visits by the leaders have been prevented by sticky history-related issues that have long strained the bilateral relationship.
In the past several years, in particular, the two neighbors have been at loggerheads over the issue of compensation to wartime Korean laborers drafted to work for Japanese companies.
This issue flared up after the South Korean Supreme Court ordered the Japanese firms involved to pay compensation to victims.
To remove this festering sore in the bilateral ties, the Yoon administration recently announced its plan to have a foundation within the country pay compensation to the former wartime laborers on behalf of the Japanese companies.
The Kishida-Yoon meeting took place just 10 days after the announcement. There was a sense of "at long last" in seeing the two leaders agree to restart regular and mutual visits.
This formula of bilateral summit diplomacy was disrupted from time to time in the past due to the souring of the ties. The two nations should now reaffirm the importance of meetings between their leaders particularly when their leadership is needed to deal with a crisis in their relationship.
Kishida and Yoon also agreed to set up a new framework for economic security cooperation between the two nations.
This could and should lead to a new era of strategic cooperation between Japan and South Korea in which they will collaborate rather than simply compete fiercely with each other in areas where they have unique strengths, such as computer chip production.
But there is no room for complacency about the future of the ties. In South Korea, there are still many critics of Yoon's proposal to resolve the wartime labor issue. We hope the South Korean government and the foundation will make tenacious and effective efforts to persuade the laborers to accept the idea.
To boost support for the proposal among the South Korean public, Japan's active and constructive involvement is vital. The Japanese government has said it is up to individual Japanese companies to decide whether to make donations to the foundation.
We are eager to see Japanese companies including the defendants in the compensation suit make flexible responses to the matter.
Tokyo also announced on March 16 that it will lift part of the restrictions on certain Japanese technology exports to South Korea imposed in reprisal against Seoul's response to the Supreme Court ruling.
This is a belated decision that should have been made long ago, and the Japanese government should now act swiftly to move toward removing them entirely.
One of the factors that has driven the two governments into patching up their relationship has been an increasingly fraught security situation surrounding them. As if trying to cast dark clouds over the "special day" for the two nations, North Korea fired a large missile into the Sea of Japan.
It was timely for the two leaders to agree to ensure the stable operation of a bilateral pact for smoothly sharing sensitive and confidential military information, such as information about North Korean missiles, and reopen bilateral security dialogue after a five-year hiatus.
It is crucial to take advantage of the mending of the relations between Tokyo and Seoul to enhance security cooperation among Japan, the United States and South Korea.
But it is impossible to rein in North Korea's reckless actions with a power-focused approach. Japan needs to act as a calming agent when Washington and Seoul take an excessively military approach toward the security threat posed by Pyongyang.
At a time when tensions between the United States and China are alarmingly high while Russia is seeking closer ties with China and North Korea as it continues invading Ukraine, effective communication among Japan, China and South Korea is also indispensable for protecting stability in East Asia.
Kishida and Yoon should move beyond simply fixing the damaged ties between their countries and build a new future for the relationship that contributes to peace and prosperity in the region.
Source : The Asahi Shimbun