Gujarat's Tarnetar Mela : Confluence of History & Mythology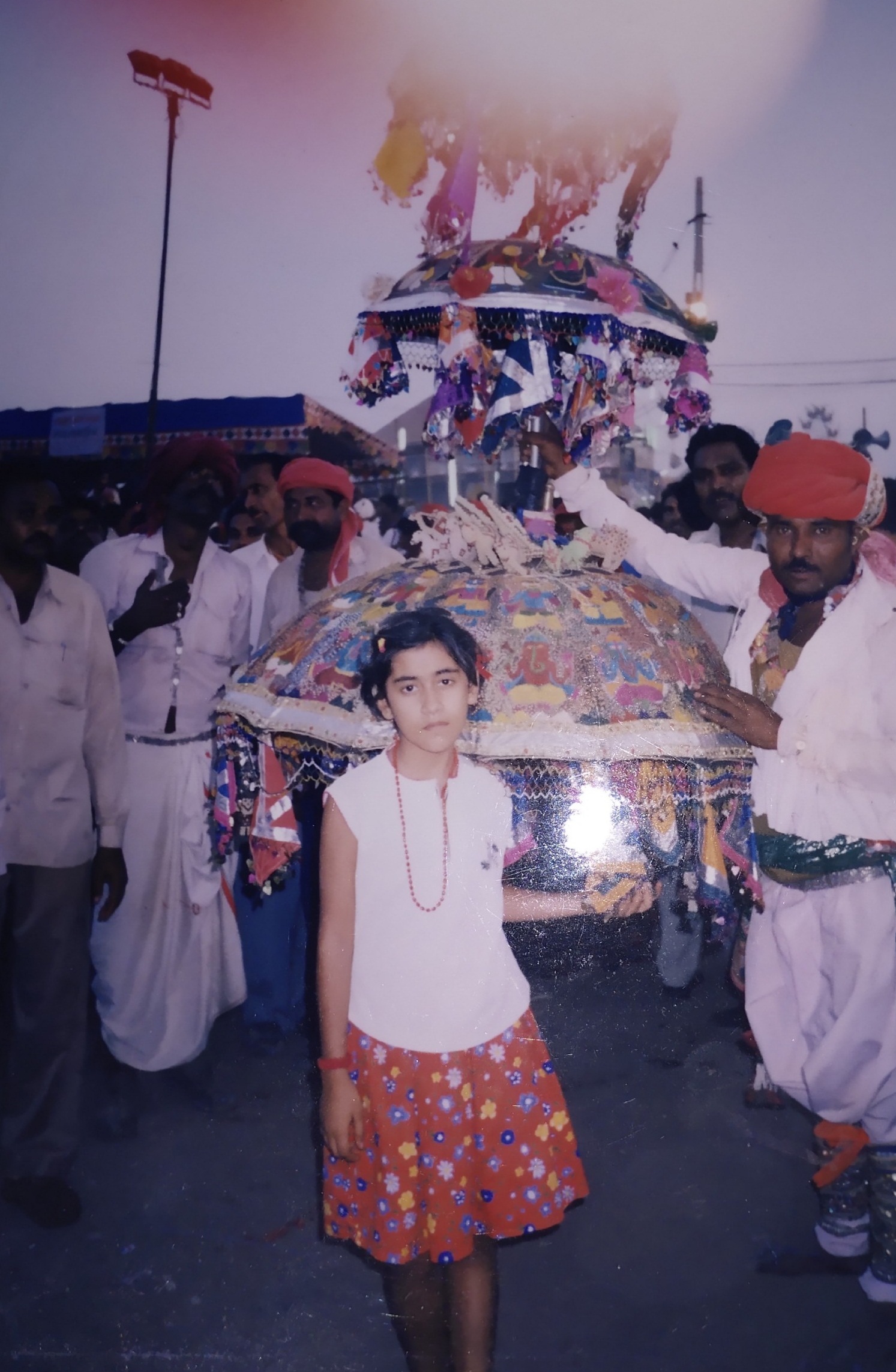 By
Colonel Satish Singh Lalotra
'You will never have this day again, so make it count'—Anonymous
The country of ours has a uniqueness in its very being and thus distinctive from others in myriad ways. No other country in the world packs so much in its vibrancy as to astound even the natives leave alone the foreign tourists which touch its shores. It remains to a tourist's ingenuity to make the best of his/her time by lapping up such extravaganza in his itinerary which may later on be added to his quiver of world experience ruminated at leisure. Though almost all Indian states and UTs are choc-a –bloc with their pounds of fairs and festivals, but there are very few which combine both history and mythology in equal measure for an avid traveller's delight. One such fair or mela tucked away in the western state of Gujarat, Saurasthra to be precise is the famous annual 'Trinetra' or Tarnetra', mela which draws crowds not only from the neighbouring districts of Gujarat but also from the adjoining states of MP and Rajasthan in hordes.
'Tarnetra' is basically a tiny village about 200 kms from Ahmedabad near Surendernagar. This tiny little hamlet comes alive during the annual festival with people hitting the festive mode button in the latter half of the year. Come September 2002 and I had the fleeting opportunity of partaking in the fair festivities posted at Dharangadhra while in service. Taking a brief leave from official duties I just packed my bags &family with children in tow, filled up the car petrol tank ready to hit the road. Till that time I had not made up my mind as to which way to head to. It was only actually starting up before the journey that my wife gave me the clue from the handbook of 'Gujarat tourism' that had the famous annual 'Trinetra' festival marked up for its festivities in the month of September that set me firm for my journey. There are two highways from Dharangadhra to be headed for 'Trinetra' fair, the SH119 (State highway) via Kaundh—sara—Trinetra totaling a distance of close to 55 kms and the other one via Surendernagar passing through Muli-Thangadh — Trinetra (NH 17/SH 113). The latter being a circuitous route, I wheeled on to the former and set course for the annual fair.
A brief awareness of this famous mela will set the tone for a reader to comprehend the entirety of this event in its right perspective. Not many may be aware that this fair is related to the 'Draupdi's  'Swayamvar' an important event recorded in the Indian epic, the Mahabharata. Arjun, one of the main characters and a Pandav had participated in the Swayamvar.  In order to marry Daraupdi he pierced the eye of a rotating fish by just looking at the fish's reflection in the water. This carried a tinge of unorthodox setting by the bride's father for selection of his son in law.The same unorthodox setting finds itself center stage in this fair too where in tribal girls and boys opt for such ways to select their future husbands/wives which may seem weird to an outsider. Later in this article of the ways of these people. This festival cum fair is primarily a celebration of Daraupdi's Swayamvar that began about 250 years ago. The festival is organized in the Trinetra Mahdev temple (3 eyed God)which was constructed way back in the 19th century. The  temple is the focal point of the fair and this is where all the festivities are held. It dates back to the 'Solanki era' with the festivities lasting over 3 days with much enthusiasm.
Once inside the temple, one is greeted with three distinct water reservoirs/kunds viz Brahmkund, Shiv kund and Vishnu kund where it is believed that taking a plunge in these 3 water reservoirs is equal to taking a dip in the waters of holy Ganges. Every year this festival falls in the 'Bhadarwasud' (Aug-sep).The fair festivities involve traditional music and dance performances. People are dressed in their finery of Gujarati costumes, with young men and women looking up for their future prospects and significant others.
This fair is primarily a 'marriage mart' sort of event for the tribal youth who stand under their exquisitely embroidered umbrellas signifying their marital status while tribal women go around these umbrellas hunting for their grooms. The fair in which local tribals like 'kolis, Bharwads and Rabaras have a preponderance ,tradition holds that if the girl stops to take a look or even speak to a tribal man under the embroidered umbrella it is a sign that she has found the man of her choice. The rhythm of the folks is all too evident in this fair where the impulsiveness with which people joyously break into folk songs and folk dances to the rhythmic accompaniment of drums and an assortment of folk instruments is simply captivating. The young men & women sway in gay abandon to the throbbing rhythm of the 'Ras Garba' and the Hudo dance. Lively folk dances and songs as mentioned above put the entire environment under a spell of trance with women folks gyrating in a single big circle to the accompaniment of drums and myriad other musical instruments .
There are also exhibitions of rural handicraft, a cattle show and competitive rural sports which are a must see for a traveller. It was indeed alucky break for the entire family of ours to come out of the shell of monotony and laid back existence of everyday grind and immerse with the same enthusiasm as witnessed by us in the mela. Knowledge of this temple fair which many of us are not aware of adds to our quotient of awareness and wellbeing.The place can be easily accessible both by air and road suiting the pocket of a visitor and the time at his or her disposal. Connected by air from Rajkot which is about 90 kms and by road, as also to Ahmedabad which is again about 200 kms the entire journey is quite hassle free giving adequate time to an avid traveller to soak into the festivities as offered by this temple fair. All in all a must visit place for all those who want to partake in a slice of rural Olympics of Gujarat with an added dash of mythology and Indian culture.
(The writer is a regular scribe and a retired army officer and can be approached on his email..slalotra4729@gmail.com)