Jharkhand police arrest Kargil war veteran after false charges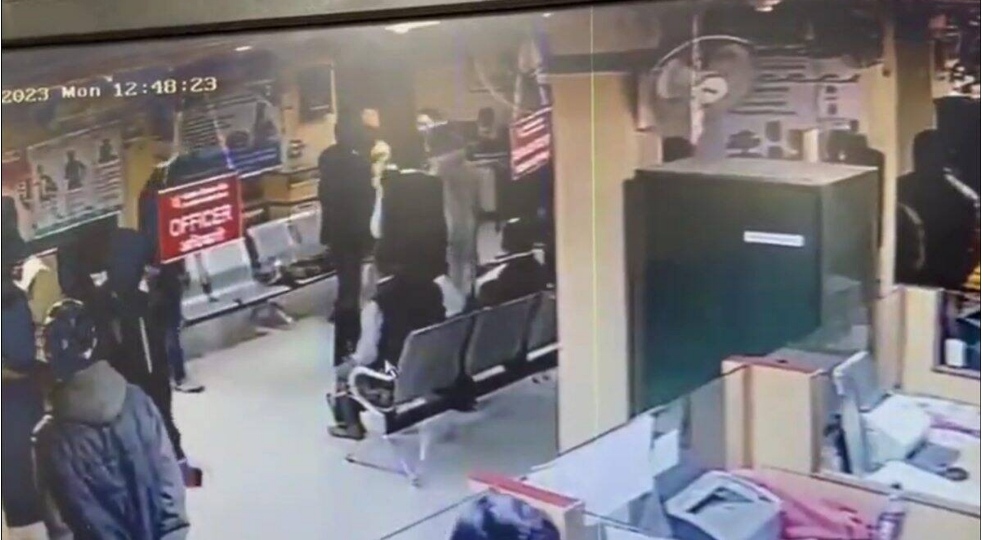 Videos of the incident that went viral on social media triggered protests by bank officials and ex-servicemen, who alleged that it was the police officer who had thrashed the ex-Army man.
A war Veteran had to spend over 15 days in prison, because he was doing his duty. This Kargil war veteran, was arrested by a police officer on "false charges" for performing his duty as a security guard.
Havildar Ashok Yadav, Retd, is currently employed as a guard at Punjab National Bank's main branch in Deoghar district of Jharkhand. Inspector Ratan Singh, posted at Town police station, arrested him on false charges of assaulting him and few other police personnel. On January 2, this inspector had gone to the bank with his team for routine checking. The ex-serviceman, had only stopped the policemen from entering the bank premises with their arms. Rules are very clear on this. Even Army personnel on duty don't enter a bank with their weapons, even when they go to the treasury for drawing official money.
Yadav as per the bank rules keeps a check on all the visitors entering the premises. "The Inspector had already gone inside the bank and I only stopped his subordinates from entering with their arms. The reason was that I had been warned by people that sometimes robbers too come inside in the guise of police… The Inspector got angry and started beating me and dragging me on the floor. I did not assault anyone. Main vardi mein apne logon ke upar haath nahi utha sakta (I cannot raise a hand against my people in uniform), he said.
The arrogant Inspector arrested the ESM for "assaulting and stopping a government servant from discharging his duty" and sent to jail. According to court records, when the policemen were going towards the chamber of the bank manager, Yadav allegedly "behaved in a derogatory manner and engaged in a scuffle, which led to his (Inspector's) dress (uniform) buttons being broken".
A Deogarh court took 15 days to grant bail to Yadav. Meanwhile, another court in the district is scheduled to hear on January 24 an anticipatory bail plea filed by Inspector Singh in a case of attempt to murder, among other charges, lodged against him over the same incident.
The cases have pitted two groups of security personnel — Army veterans and serving policemen against each other in the district.
Videos of the incident that went viral on social media triggered protests by bank officials and ex-servicemen, who alleged that it was the police officer who had thrashed the ex-Army man.
Chief Minister Hemant Soren's office said an order was issued to the Deputy Inspector General of Police to investigate the matter promptly, following which the police officer was suspended from duty.
Deputy Commissioner Manjunath Bhajantri said the FIR against the Inspector was registered at the instance of the bank manager. "In this case, the police had committed excesses and after a preliminary investigation, Ratan Singh was booked.
Despite conducting several exercises in sensitising police officers this incident has occurred, which prima facie is the fault of the police. A few months ago, I had asked all police personnel to watch the movie Jai Bhim — on police bias and state excesses just to sensitise them, but still there was an incident. It could not be tolerated," he said.
Deoghar Superintendent of Police Subhash Chandra Jat said, "We have suspended Ratan Singh and an investigation is underway." Meanwhile, Singh, fearing arrest, has filed the anticipatory bail plea.
The Jharkhand Police Association has alleged that Inspector Singh was only doing his duty and Yadav had misbehaved with him, leading to the incident. They are demanding revocation of the officer's suspension and a thorough investigation into the matter.
The Ministry of Defence, Adjutant General, Department of ESM, MoD, Chief Secretary Jharkhand, DGP Jharkhand Police must take the case to its conclusion.
A law must be made, on the lines of standing law regarding accident between a military vehicle and civil vehicle. Any arrest of or altercation with an ESM with Police, there should be an automatic court of Inquiry ordered by the concerned Station HQ with a DSP as a member. A similar inquiry must be ordered by the Concerned DIG with a Subedar from the Army.
After all even in case of AFSPA, the military has to hand over an arrested culprit to the civil police in a given time frame. Similar time frame should be laid down for Police to inform the nearest Statin HQ and the local court, which must hear bail plea the very next day. Failure to comply should lead to dismissal from service / reduction of seniority or severe reprimand for the police SHO..