Kashmiri politicians earlier "living off the people" now Paying Heavy Price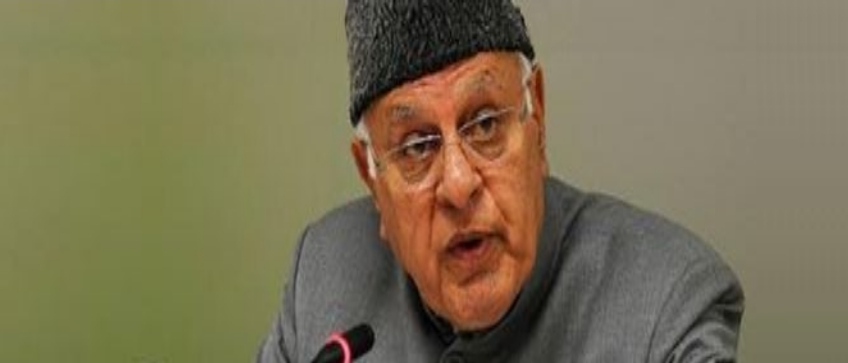 Says peace in J&K cannot be achieved through force
National Conference (NC) President and MP from Srinagar Dr Farooq Abdullah on Friday once again whined against the government of India, threw tantrum at its Kashmir Policy calling it "stubborn attitude" and then pleaded the Centre to reframe the policy.
NC president was addressing party workers, functionaries and delegates in Central Kashmir's Magam hamlet. Yes, such people who earlier never stepped out of Gupkar Road are now visiting small hamlets. This is the result of the Centre's new Kashmir policy.
He was Lamenting the my way or the highway attitude of the Government at New Delhi. Dr Farooq said that the people of Jammu and Kashmir, particularly Kashmiris are paying a heavy price for the Centre's Kashmir policy. Though people of Jammu & Kashmir are now seeing the developmental work on the ground itself. Now they have become fully aware as to how the Separatists leaders and the Local political parties leaders had been " living off " the earnings of their blood and sweat.
"While the government and its air dropped administration in Kashmir is busy in its usual pomp and show, the people of J&K continue to suffer from rising unemployment, development deficit, inflation and deepening alienation all at the same time as never before. All the democratic institutions in Jammu and Kashmir have been diluted to fit in the vision of a particular political party," he stated adding, "There is fear, anxiety, concern, and insecurity everywhere. Our people, particularly our youth, have been pushed to the margins."
All the above lies of Farooq have been fully exposed on ground. Development in all spheres is now fully visible everywhere. Unemployment has comedian drastically. Investment has started to come to J& K and now the UT is moving at speed on path of industrialization.
The votaries of muscular policy in Kashmir, Dr Farooq observed, need to take a step back and ask themselves if such a policy has succeeded elsewhere in the world. "The post 2019 policy landscape of Kashmir has no space for dialogue. It only relies on obliterating the legacy and icons of the region's constitutional and historical uniqueness. This has to change. There can be no headway without changing this. Peace cannot be achieved through force," he said.
The above speech of Farooq shows that the NC mindset will never change. It seems they still have dreams of getting back to " old days ", of hobnobbing with Pakistan.