Mahua Trees : A Saviour Central India's Tribal Population, Culture And Economy
Fast forwarding to the present times, the government and private agencies have regenerated and packaged the fruit into the form of candies, energy bars, and supplements like jams, jellies, chutneys and squashes to introduce it to the urban customer
By COLONEL SATISH SINGH LALOTRA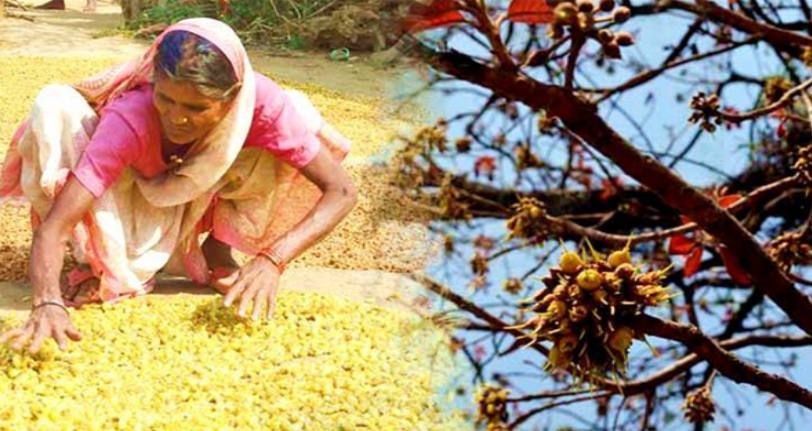 The amazing land of India, with its veritable hue of people, culture, languages and seasons has few parallels in the world when it comes to show casing its diversity in all its splendor. It may take a life time for an individual to know even the basics of such diversity hidden in its art, culture, people and languages. The wonderful part of this diversity is the role played by the flora and fauna of our country which too casts a very strong influence in this diversity factor. With approximately 10.4% of total population of the country falling under the ambit of 'Tribal' community to a sizable 11 crores, the government of the day too is seized of the welfare of such a huge section of our society. Central India of our country to include Madhya Pradesh, parts of Maharashtra, Chhattisgarh etc are choc-a-bloc with tribes of various types. Primarily an extension of the forest system of India, these tribes have been the life-blood of our huge ecosystem depending upon forests as a means of their livelihood.
Depending entirely upon the forest produce for their existence, the symbiotic association so developed between the tribal population and the forests is inalienable. Mahua tree also known as 'Honey tree' in other parts of the world is the mainstay of central India. While posted at 'CPEItarsi' In district Hoshangabad of Madhya Pradesh I was witness to these quintessential Mahua tree plantations which used to be the sine quo non for a 'Korku tribal man and his family for his sustenance. Setting off early morning from their homes often bare footed these 'korkus' including men, women, children and old men used to fan around the hill side forests of 'Satpura' ranges often to collect the Mahua leaves and its yellow/ amber coloured fruits in large wicker baskets kept precariously balanced on their heads.
Known as 'Madhuca Longifolia'in botanical terms, Mahua tree has been around these 'Satpura' ranges for hundreds of years and has sustained the tribal economy in so many ways that it is difficult to repay the debt to this nature's wonder.Although primarily thought of as an ingredient in homegrown liquor, Mahua has long been used in recipes both simple and complex. The growing global fascination with foraging has inspired Indian chefs to search for wild foods from the forested corners of the country and add them to the sophisticated menus of an avid connoisseur of travel and adventure.
The 'Mahua tree is a veritable source of diverse products ranging from vegetable butter, medicinal extracts, syrups, purees and liquor. As for its many firsts the world over, the agricultural and processed foods export development authority shipped a consignment of dehydrated Mahua flowers from the general area of Chhattisgarh to Paris in France in 2021 introducing India's most famous 'Kacchisharab' (country liquor) to global audiences for the first time. Earlier this year Madhya Pradesh declared 'Mahua'heritage liquor while neighbouring Maharashtra in a first amended the 'Bombay Mahua flower rules 1950' making collection, sale and transport of 'Mahua' flowers legal. The tribal cooperative marketing development federation of tribal affairs run cooperatives tied up with the IIT-Delhi recently to produce 'MahuaNutra' a health beverage made by blending in fermented Mahua flowers with pomegranate and Guava juices in Jharkhand and also launched 'Mahua cookies' blended with millet flour in Madhya Pradesh. All these developments are pointing towards a dramatic and welcome change in government priorities and attitudes plus a policy towards an indigenous tribal product that was once seen as a 'Dangerous blight' that had to be obliterated. Government policy on Mahua has completely changed now from an outright ban to a celebration of India's country liquor.
Having stayed at 'Itarsi' while in service and posted from 2010 to 2012 I had seen first-hand the fortunes of this 'Honey fruit' change its many colours. But now almost after a decade the economics of Mahua has completely done a somersault for the better. The complexity of Mahua commerce is worth noting and replicating in other such forest fruits too obtaining in India. The state of Madhya Pradesh buys the entire produce from tribal gatherers through the 'Van Dhankendras'. It is bought under a scheme with an unusually specific name called as the 'Scheme for marketing of minor forest produce through minimum support price and value chain development'. The same was not in vogue about a decade back. It then sells it under auction or to the government.The scheme and the specific MSP amount is run and decided by the ministry of 'Tribal affairs'with state forest department regulating the collection of Mahua flowers from the forest and issuing permissions. The MP state excise department is also involved in monitoring /regulating of Mahua if fermented for its value in the open market.More enterprising districts across India have realized the potential that Mahuahas. Actually states like Maharashtra, Jharkhand, Odishaetc have already started promoting Mahua both as liquor and as a value added food product.
Despite declaring Mahua as its signature product in the ODOP (One district one product) scheme under the 'PM formalization of micro food processing enterprises' (FME) scheme the administration's reluctance to promote a country liquor has led to a little growth in grass-root infrastructure in states like Chhattisgarh. But in neighbouring Madhya Pradesh as mentioned earlier scores of rusty forest dwellers are celebrating their Mahua flower harvesting for the first time, since they have found government reaching out to their doorsteps and arranging the purchasers to buy flowers in bulk at a minimum support price like in the case of other crops. I was witness to scores of sights way back in 2010-12 while posted at Itarsi (Hoshangabad) Korku men, women, even children with wicker baskets on top of their heads full of Mahua flowers and fruits heading towards Itarsi market trudging along the Betul- Itarsi- Hoshangabad highway in the morning all bare footed for selling their produce in Itarsi market.
Well with the onset of the pandemic of Corona since the last two years, the dynamics of human living, doing business and thriving in such uncertain times has infused a new life of expectancy in the locals of this area. Coming one up on this pandemic the MP government by its scheme of approaching the tribal population directly at their homes has ensured stuffing of lakhs of rupees in the pockets of such farmers. This has ensured that the Korku population which was getting disenchanted from the forests as a chief source of their livelihood and straying across to unorganized work in the cities and towns have been rolled back into the arms of these forests of Satpura range. These forests of Satpura range were infact witness to an exodus of the local tribal population dazzled by the lights of city life of Bhopal, Indore etc. A but natural reaction to the rapid pace of urbanization being unfolded all across India.
But not now with the new dynamics of Modi government unleashed upon the hapless tribal population which is a blessing in disguise for them. There have been many cases where the tribal men and women have earned as much as 3.5 lakhs of rupees per month equal to about 4 years of their wages as a labourer by selling the Mahua produce which they might have earned in any city of their state doing jobs not natural to their being. The district of Hoshangabad alone has opened about 15 to 20 procurement centers to purchase these Mahua produce directly from these Korku people. MP government has roped in big traders to purchase these Mahua flowers @ Rs 35 per kg MSP or higher directly from the source and also provided many villages the nets to them under the bank funded 'Green India mission'. These Mahua collection nets have resulted in better collection of quality produce that have fetched much higher price ranging from Rs 40 to 45 per kg.
Mahua as a produce has a very rich historical past too, stretching back to the British times. As per historian Vinita Damodaran's essay titled 'Famine in Bengal –A Comparison of the 1770 famine in Bengal & the 1897 famine in Chota Nagpur,she says that'not only were the fruits made use of as articles of food but the fleshy corolla constituted a staple article of diet for the poor for several months of the year'.It was Mahua that saved thousands from starvation during draughts, famines and epidemics that roiled this land under the colonial rule. Scottish botanist 'Sir Charles Watt in 'A dictionary of the economic products of India' quotes a former magistrate of Manghyar (now Munger) as saying that it was this Mahua fruit in the year 1873-74 which saved people from virtual decimation.
By the end of 19th century the foods that forest communities depended upon were denuded by colonial capitalism. The problem was further compounded when the colonists classified Mahua as a dangerous intoxicant through the promulgation of 'Mhowra act of 1892'. The driving agenda of the colonialists was to curb the local liquor industry and secure the Indian markets for their imperial liquor brands. Coming to the culinary delicacies with which Mahuais associated with, it is brought out that this forest produce when mixed with yoghurt can be made into deep fried purees called as 'Kuldum'and 'Puran polis ' sweetened with Mahua.
Fast forwarding to the present times, the government and private agencies have regenerated and packaged the fruit into the form of candies, energy bars, and supplements like jams, jellies, chutneys and squashes to introduce it to the urban customer. I am sure with these measures to resurrect this forest produce the tribal population will no longer trudge huge distances with wicker baskets on their heads filled with Mahua flowers/fruits as was seen by me on the road to 'Itarsi' from Betul, but will carry instead smart packages of the above mentioned items for their selling in the bazars of Madhya Pradesh.