Pak can't feed its own people but still wants Kashmir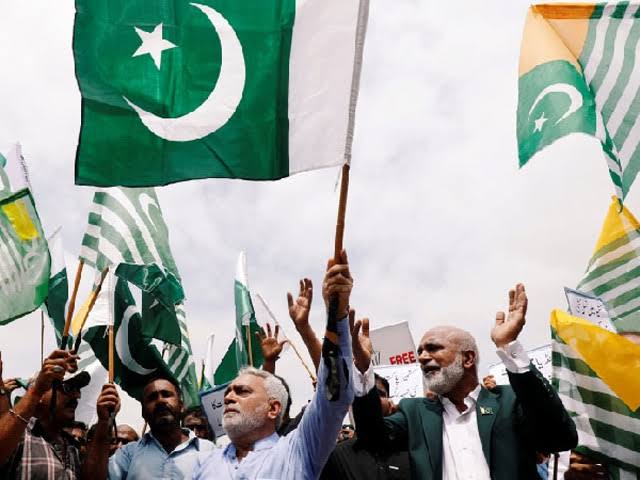 A country that wanted to snatch Jammu and Kashmir from India has plunged into a deep economic crisis.
The Pakistani rupee has fallen to an all-time low, medicine stocks are at the verge of getting exhausted, prices of wheat have skyrocketed and cash reservoirs stand depleted. Even petrol and diesel are about to dry up.
Pakistan is paying a heavy price for breeding terror in its backyard and is staring at bankruptcy as the international community too has dragged its feet.
For the past three decades, the neighbouring country has been fighting a proxy war with India by sending terrorists into Jammu and Kashmir. Rather than building Pakistan, its rulers have been daydreaming about annexing Kashmir.
They tried taking Kashmir by fighting conventional wars, but the Pakistan Army couldn't match the skills and expertise of the Indian Army and was defeated.
In 1990, Pakistan launched a proxy war in J&K by sending terrorists and arms and ammunition into the Himalayan region. Soon after the armed insurgency broke out in J&K, terrorists carried out target killings of the members of Kashmiri Pandit community, forcing them to leave everything behind and flee from the Valley.
Pakistani stooges, hired by the terror bosses sitting across the Line of Control, organised protests and shutdowns to create uncertainty and chaos in Kashmir. They sold an illusion called 'Azadi'.
Terrorists sponsored by Pakistan resorted to bloodshed and large-scale violence to achieve the goal they were trained for. But they failed as the security forces either neutralised them or sent them packing.
Pakistan Used All Resources To Bleed J&K
From 1990 to 2019, Pakistan used all its resources to bleed J&K and annex Kashmir. It spent millions on building terror infrastructure and training the terrorists in Pakistan occupied Kashmir (PoK).
The neighbouring country pumped Hawala money into J&K through various channels to orchestrate violence on the streets and to disrupt normal life.
It didn't leave any opportunity to bleed India. The attack on Parliament in Delhi and the Mumbai terror attacks are grim reminders of how Pakistan-sponsored terrorists infiltrated into the metropolitan cities of India to target innocent people.
Pakistan turned Jammu and Kashmir into a theatre of terrorism as the terrorists carried out numerous attacks on security forces, civilians, politicians and others for three decades.
New Delhi's August 5, 2019 decision Till August 5, 2019 — when the Centre announced its decision to abrogate J&K's special status and bifurcated it into two Union Territories — Pakistan-sponsored separatists and terrorists used to call the shots in the Himalayan region.
However, J&K's complete integration with the Union of India changed the entire scenario. The bold decision taken by the Prime Minister Narendra Modi-led regime to end the 70-year long status-quo proved to be a decisive step towards ending Pakistan-sponsored terrorism in J&K.
Desperate attempts of the neighbouring country to challenge India's decision to revoke Article 370, a temporary provision in the Indian Constitution, went in vain as the international community, including Muslim countries, closed all the doors on Pakistan leaders by terming New Delhi's decision as its internal matter.
Pakistan Grapples To Make Ends Meet
After facing defeat on all fronts, Pakistan is grappling to make its ends meet and provide two square meals to its citizens. The country of 23 crore people is now paying for the crimes committed by its leaders and the deep state.
It's an open secret that successive Pakistan regimes always used terrorism as an instrument of their state policy. Rulers overlooked governance and focused all their energies on using terror as a strategic weapon.
A small part of Kashmir under the occupation of Pakistan since 1947 is a glaring instance of the colonial mindset of Islamabad. Its population has remained deprived of the basic amenities and no development has taken place in the region.
Pakistan turned PoK into a breeding ground for terrorists as maximum of the terror training camps are located there. After J&K's complete merger with the Union of India in 2019, voices in PoK, Gilgit and Baltistan to seek freedom from Islamabad have become shriller.
During the past few years, all the three regions have witnessed many protests against the tyrannical rule of Islamabad with people openly saying that they will be better off with India.
J&K witnessing an unprecedented development is an endorsement of the fact that the Himalayan region is an integral part of India and it's not a colony like PoK, Gilgit and Baltistan.
J&K People Come Out of Illusion
The people of J&K have been watching the developments in Pakistan keenly. They are seeing the country, which sold them the dreams of 'Azadi', crumbling. They have understood that the gun which was sent by Pakistan brought nothing except destruction and led to graveyards coming up in every nook and corner of Kashmir.
People of J&K have turned their backs towards terrorism and the agenda of separatism. They are seeing how people in Pakistan are struggling to purchase wheat, medicines and milk. How difficult it's for a common man even to feed his family, while people of J&K have been provided with all the facilities.
The government has never allowed them to feel the pinch as the helmsmen have always focused on increasing per capita income. They have always tried their best to keep the prices of essential commodities under check.
The economic crisis being faced by the people of Pakistan should serve as an eye opener for the ones who acted as stooges of the neighbouring country in J&K.
The country which is unable to feed its own people is still dreaming about Kashmir. What an irony!
If Pakistan doesn't give up its obsession with terrorism and Kashmir, no one can save it from turning bankrupt. Its rulers need to understand that Pakistan is collapsing and the world is least interested in helping the country which supports violence and breeds terrorism in its backyard.
Pakistan is paying a heavy price for its misadventures and if it fails to rectify the mistakes that have been committed in the past, the country can end up in a big mess from where no one would be able to pull it out.