Pak Defence Minister admits Spread of Terrorism in country, blames Imran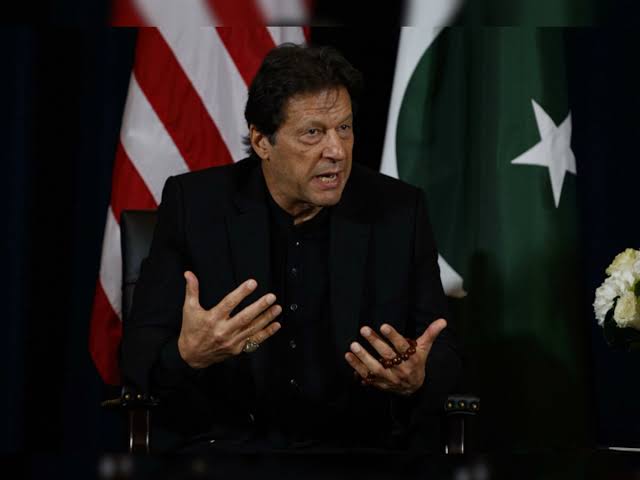 Life for the common people of Pakistan, has been very tough since decades and given the current state of the country's economy, got even harder. Food prices have sky rocketed and the petrol price has surged to a historic high of Rs 272 per litre — in line with the IMF's demands.
Inflation has rocketed, the Pakistani rupee has plummeted and the country can no longer afford imports – causing a severe decline in the industry. Stricken by a balance-of-payments crisis as it attempts to reduce high levels of external debt amid political chaos and deteriorating security, Pakistan's economy is going through a crisis.
People of Pakistan are now actually being forced to eat grass which Bhutto had desired. He had said that Pakistan will eat grass for a thousand years but get the nuclear weapons. So be it. More than being nuclear, they have become the biggest base for terror outfits.
Pakistan Defence Minister Khwaja Asif on Saturday said that the previous regime was responsible for the spread of terrorism in the country, reported The News International.
Without naming the Pakistan Tehreek-e-Insaf (PTI) led by Imran Khan, he said that security forces were fighting against the terrorists last night (referring to the Karachi police office terror attack) as they were brought back (TTP) and rehabilitated nearly a year ago.
Asif was refering to the terror attack on the Karachi police chief's office. Karachi Police office was attacked on Friday and began at 7:10 pm, while police and Rangers personnel cleared the five-story building in phases, finally sweeping the entire office by around 10:46 pm.
The hours-long combat between terrorists and law-enforcement agencies — comprising Pak Army Special Service Group (SSG), Pakistan Rangers Sindh & Sindh Police — on Friday at the Karachi Police Office located at Sharea Faisal left four people killed and 19 injured, as per the report in Dawn.
In contrast, all three terrorists belonging to the banned militant group Tehreek-i-Taliban Pakistan (TTP) were killed.
Lashing out at the former PTI government, Asif said that terrorists were brought to Pakistan two and a half years ago which eventually resulted in the current wave of terrorism, reported Dawn.
Notably, former Pakistani Prime Minister Imran Khan's administration wished to resume talks with the TTP. By the time the second round of discussions began in February 2022, the government had already freed at least 100 TTP detainees.
However, no progress was made towards reaching a peace accord with TTP and the banned outfit called off its ceasefire on November 28.
Since then Pakistan has been hit by a wave of terrorism, mostly in Khyber Pakhtunkhwa, but also in Balochistan and the Punjab town of Mianwali, which borders KP. Terror attacks have also reached as far as Islamabad and Karachi.
The Karachi terror attack occurred after a deadly suicide attack at a Peshawar Civil Lines mosque that left 84 dead, reported Geo News.
Speaking about the economic crisis, Asif said that Pakistan has already defaulted as the country and there is no early respite in sight, reported The News International.
Incidentally, his statement comes even before Pakistan could get an IMF bailout.
"The country has defaulted. We live in a state that has defaulted," Asif, a senior leader of the main party in the coalition government, Pakistan Muslim League-Nawaz (PML-N), said while addressing a convention at a private college in Sialkot.
Pakistan's economy is in dire straits, stricken by a balance-of-payments crisis as it attempts to service high levels of external debt amid political chaos and deteriorating security.
Inflation has rocketed, the rupee has plummeted and the country can no longer afford imports, causing a severe decline in the industry, reported The News International.
The critical position of foreign exchange reserves — which stand at around USD 3.19 billion as of February 10 — reflects the miseries of the USD 350 billion economy struggling to fund imports as thousands of containers of supplies were stranding at its ports stalling production and putting jobs of millions of people at risk.
Khawaja Asif said all the solutions to Pakistan's economic problems are within the country and not the International Monetary Fund (IMF) — whose crucial USD 1.1 billion loan Pakistan is desperately trying to secure, reported The News International.
Presenting a solution to address the country's economic woes, the Pak defence minister said that golf clubs were built on 1,500 acres of government land and Pakistan can pay off a quarter of its debt by selling two of its golf clubs.
He added that everyone, including the country's military, bureaucracy and politicians, are to blame for the current economic mess as the law and Constitution is not followed in Pakistan, The News International.
"For the last 32 years, I have seen politics getting disgraced in Pakistan," he further said.
It was only General Musharraf who had taken a vow to eliminate all terrorism from Pakistan but the so called democratic political parties and the Judiciary had obstructed him at all levels.