Pope likely to visit India next year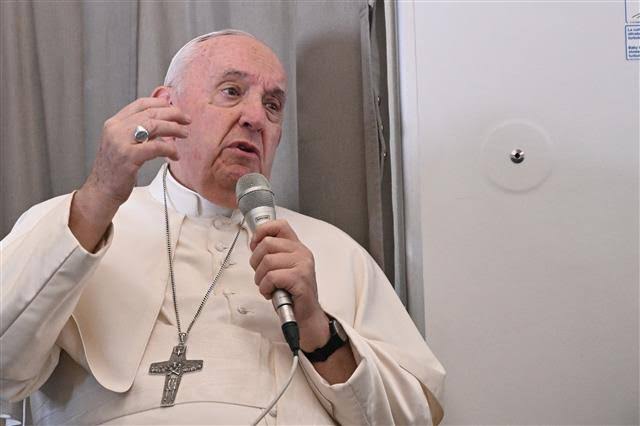 Pope Francis, on Sunday, said that he is planning to visit India next year and is also expected to take a trip to Mongolia later in 2023, as per Vatican News.
Pope Francis outlined his upcoming travel schedule during his flight back to Rome from South Sudan.
While addressing the presser, the Pope said, "I think India will be next, next year. On 29 September I will go to Marseilles, and there is the possibility that I will fly to Mongolia from Marseilles, but it has not yet been decided. It's possible. I don't recall another one this year. Lisbon."
Founded by Pope Francis, Vatican News is a Catholic news website to provide multimedia pertaining to the global Catholic Church and the operations of the Holy See.
While answering a query about whether he is expanding the circle of his trip, the supreme pontiff of the Roman catholic church said, "I chose to visit the smallest countries in Europe. People will say, 'But he went to France,' no, I went to Strasbourg; I will go to Marseilles, not to France. The little ones, the little ones. [The criterion is] to get to know a little about hidden Europe, that part of Europe with so much culture but is not known.
Accompany countries, for example, Albania, which was the first one, and is the country that suffered the cruellest, the cruellest dictatorship in history. Then, my choice is this: try not to fall into the globalization of indifference," Vatican News reported.
On Friday, Pope Francis reached South Sudan, fulfilling a long-time wish to visit the war-ravaged country, currently in the midst of a major humanitarian emergency, reported CNN.
In the first, the Pope is undertaking the trip together with the head of the Anglican Communion, Archbishop Justin Welby, and the Moderator of the General Assembly of the Church of Scotland, Rt. Rev. Iain Greenshields, represents the three Christian churches that make up the majority of the population in South Sudan.
In April 2019, the Pope held a spiritual retreat at the Vatican for political and religious leaders in South Sudan, and in an unprecedented gesture he knelt down and kissed the feet of President Kir and Vice-President Machar, reported CNN.