Sunak signs Defence Pact with Japan to bolster Economic Security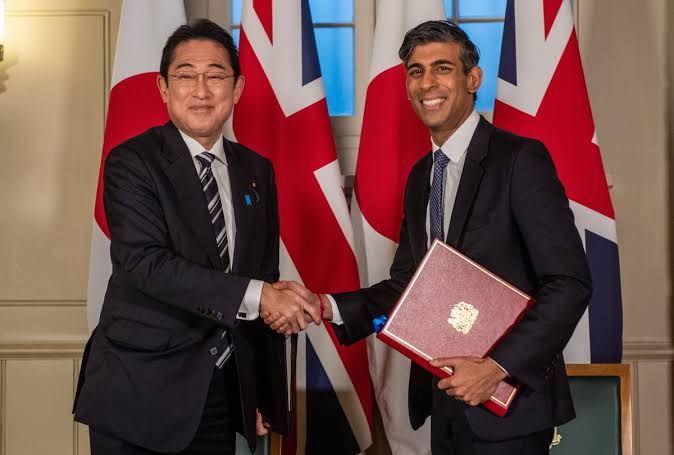 The United Kingdom and Japan signed a defence agreement which will bolster economic security and reiterated their commitment to the Indo-Pacific, UK Prime Minister Rishi Sunak said.
Taking to Twitter, Sunak said, "This week Prime Minister @Kishida230 and I signed a landmark defence agreement which cements our commitment to the Indo-Pacific, bolstering our economic security. The UK and Japan stand together as democracies."
This tweet came after Japanese Prime Minister Fumio Kishida visited Britain, which marks the third stop of a five-country tour as Japan seeks to pave the way for a successful G7 summit, which is scheduled for May 19 to 21 in Hiroshima, according to The Japan Times.
Calling the agreement, "landmark", The Japan Times reported that it will allow both countries' forces to plan and execute military exercises and deployments on a larger and more complex scale, while also stipulating jurisdiction in the event a service member commits a crime or causes an accident in the other's country.
The agreement, touted as the most significant defence pact between London and Tokyo in more than a century, will "rapidly accelerate" already growing defence and security cooperation between the two countries amid rising concerns over China's military assertiveness in the Indo-Pacific region.
It is pertinent to mention that this agreement is Tokyo's first such deal with a European nation and the Asian nation's third overall.
Sunak's office said the agreement will be put before Japan's and Britain's parliaments "in the coming weeks."
"This Reciprocal Access Agreement (RAA) is hugely significant for our nations — it cements our commitment to the Indo-Pacific and underlines our joint efforts to bolster economic security, accelerate our defence cooperation and drive innovation that creates highly skilled jobs," Sunak said in a statement, according to The Japan Times.
Although the UK leader did not explicitly single out China, the Asian behemoth has been a driver of Britain's strategic "tilt" to the Indo-Pacific region, and Sunak appeared to hint that competition with Beijing, among others, was likely in mind when sealing the deal.
"In this increasingly competitive world, it is more important than ever that democratic societies continue to stand shoulder to shoulder as we navigate the unprecedented global challenges of our time," he said.
Japan's Foreign Ministry called the agreement a breakthrough and said that "this important security agreement will take Japan-UK cooperation in security and defence to new heights."
"It will also bring further progress toward making a free and open Indo-Pacific a reality," it added.
The RAA signing will be seen as yet another example of Tokyo's interest in cementing ever-closer security ties with a variety of partner countries amid growing Sino-US tensions — especially as Japan's concerns rise over the fate of democratic Taiwan, as per The Japan Times.
China views the self-ruled island as a renegade province that must be united with the mainland, by force if necessary. Any war over Taiwan, which is strategically positioned near crucial sea lanes for trade, would have dramatic implications not only for Japan but Europe as well, observers say.