Tax Raid on BBC show that UK cannot play the Great Game with India any more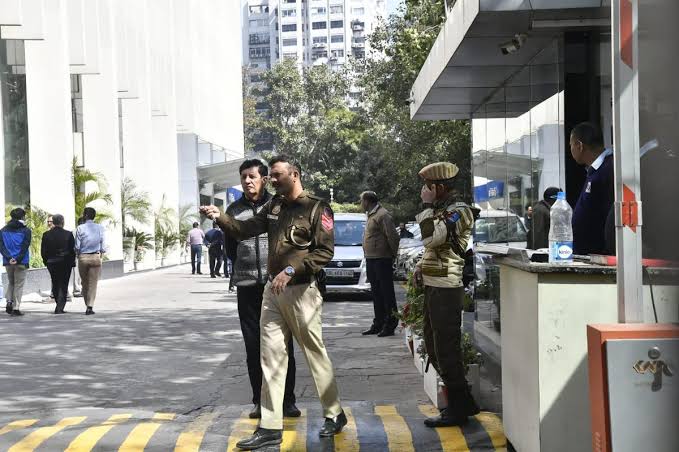 The BBC released a two-part derogatory documentary with respect to India in the name of Freedom of Press and deep research. The documentary simply raked up a dead issue.
The documentary among other things purposely re examined the sectarian riots in the state of Gujarat that had taken place in 2002 when Shri Narender Modi had just taken over as the chief minister there just a few days back.
The documentary, which was only broadcast in Britain, has openly accused Modi of fostering a climate of impunity that fuelled the violence.
This documentary was a clear insult to not only PM Modi but to the entire Indian system and the people of India. Numerous allegations had been made against the new inexperienced Chief Minister of Gujarat and even cases had been filed directly accusing him for the riots.
A shrill international campaign had been mounted for denial of Visa by the USA govt, when he had to visit USA. Modi's efficient and impartial handling of the Situation was not only accepted and appreciated by the courts upto the highest level but also by the people of Gujarat. They went on to elect him as their Chief Minister for three terms. Later Even the President of USA had to welcome Modi when the PM graced his country with a visit.
There after since 2014, Shri Modi has been the Prime Minister of India and will be going for a re election once again in early 2024. So this documentary was clearly aimed at influencing the voters in India for pulling down the Modi led Government.
In case BBC was really into research then they should have deeply examined all the riots in Gujarat since 1947 and their causes.
The 1969 Ahmedabad riots or the 1992 Mumbai riots would have been much better. Also why not make documentaries on 1981 England riots which took place mainly in London, Liverpool, Birmingham and Leeds. Even 1991 England riots, mainly in Oxford, Dudley, Leeds, Newcastle upon Tyne, Birmingham and later that year in Cardiff and Wales, would have been a solid documentary.
In fact while talking about organized killings due to racial prejudice, a very apt documentary for BBC would have been on the !942 Bengal Famine. Nearly 60 lacs Indians had been killed due to a well deliberated plan of the then British Prime Minister Winston Churchill.
Making a good documentary will certainly establish the Freedom of Press in United Kingdom —which does not look so United, comprising Occupied Scotland and Occupied Northern Ireland, Wales ( whereabouts does not like North ) and England.
Instead in the name of Freedom of Press and what not BBC thoughtful to make a documentary for destabilization of India. However seeing the game plan, Govt of India decided to strike back.
Tgerefore around 11 a.m. on Feb. 14, some 20 Indian tax officials along with Mumbai police whose officers have Magistrate' powers too, reached the BBC's offices in Mumbai. Simultaneously BBC office in New Delhi also got searched in detail. All the staff had to be asked to step away from their computers and hand over their mobile phones.
The government announced that the BBC had failed to respond to repeated requests to clarify its tax affairs related to the profits and remittances from its Indian operations. Most probably the BBC thought that they were UNTOUCHABLES as far as Indian Laws were concerned.
Later the BBC claimed that it was cooperating fully with tax authorities and hoped to resolve matters quickly, adding its journalists would continue to report "without fear or favor." It declined to comment for this story…… here one gets reminded of an Indian proverb.
BBC was under scanner for tax but authorities were moving very cautiously. However when BBC knowingly aired their Documentary the government too took off its gloves and struck back.
Foreign Minister S. Jaishankar had rightly called the documentary "politics by another means" and suggested its timing was intended to undermine support for Modi.
As reported by BBC supporters "the 72-year-old prime minister enjoys high approval ratings and is expected to run for re-election next year for the Hindu nationalist Bhartiya Janata Party (BJP)".
Well it is just like the Catholic supported Biden of USA and Protestant supported Conservative Party which will be participating in re elections in their respective countries.
As the BBC documentary was in clear violation of Indian laws, authorities had no choice left but to order the removal of social media posts sharing the documentary and police detained some Indian students who tried to screen it. They were released shortly afterwards.
As expected supporters of BBC, have highlighted the concerns of some journalists and media " rights watchdogs" about what they say is a decline in press freedom under Modi. Reuters spoke to eight Indian journalists, industry executives and media analysts who said that some media which reported critically on the government have been targeted with inspections by government agencies, the suspension of state advertising, and the arrest of reporters.
The BBC operates under two private companies in India: like any other foreign company, they are open to scrutiny and tax laws apply to them," said Kanchan Gupta, senior adviser to the Ministry of Information and Broadcasting. The BBC had received more than 10 tax notices before the documentary aired, he said.
"There's never been a golden age of Indian journalism," said Abhinandan Sekhri, chief executive of independent online media group, Newslaundry, whose offices in New Delhi were surveyed twice by tax officials in 2021 after "critical coverage " of Indian Government administration.
A criminal case filed by the tax department against Sekhri alleging tax evasion and forging a valuation report is now being heard in the Delhi High court. Sekhri too has sued the government for attacks on his fundamental rights and freedom of expression.
Since 2014, India has been on the rise and fighting back against various types of discrimination in the international arena. No wonder it has " slid from 140th in World Press Freedom Index, an annual ranking by non-profit Reporters Without Borders, to 150th place last year, its lowest ever." However a vibrant and confident India now knows how these NON PROFIT jokers do their work. So majority of Indians are no more in awe of such RESEARCH WORK. They have rejected the Index's findings, questioning its methodology.
The world's most populous democracy with 1.4 billion people, India has thousands of newspapers and hundreds of TV news channels and as has a vibrant free press.
The Editors Guild of India, an industry association, said the BBC raids were part of a trend of "government agencies being used to intimidate and harass news organizations." It cited four similar tax inspections against media in 2021.
In one of those, the offices of Dainik Bhaskar, one of India's largest newspapers by circulation, were raided in July 2021 by tax authorities, who alleged it evaded taxes on income worth 7 billion Indian rupees ($84.47 million). The paper has contested the charge and the case is ongoing.
A senior Dainik Bhaskar executive, who asked not to be identified because of the sensitivity of the issue, said the raids followed an unexplained halt in advertising by the federal government and six BJP-controlled states from February 2021. The suspension lasted until August 2022 and cost the newspaper more than 1 billion rupees ($12.25 million), he said.
A spokesman for the newspaper declined to comment. The state governments did not respond to requests for comment. Asked about the case, Gupta, the senior advisor at the Ministry of Information and Broadcasting, said the government did not pull advertising because of critical reporting.
Between 2014 and early December 2022, the federal government spent 64.9 billion Indian rupees ($784.34 million) on advertising in print and electronic media, it said in a statement to parliament at the end of last year. However, the figures showed spending has declined in recent years…….because some of it was certainly a wasteful expenditure being done by earlier govts. However complaints after the government reduced its advertising spending cannot be termed as assault on media freedom.
"Government doesn't exist to fund media. We don't want a media which is loyal to us or beholden to us because of the money that we give them," he said.