THE FIRST SUBEDAR MAJOR OF 9 PARA SF
THE SURGICAL STRIKERS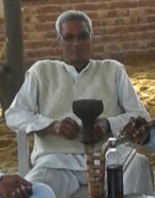 Sub Maj & Hony Capt Guggan Singh
Founder of 9 PARA SF
He had promised but could not keep this one, that is celebrating his 100th birthday in 9 PARA SF rather 9 para Commando, the unit he had helped Colonel Megh Singh, Vir Chakra in Raising. He had accompanied his Colonel from the erstwhile Meghdoot Force.
Finally Sub Maj & Hony Capt Guggan Singh has moved out at the ripe age of 97 years. This old dedicated brave man, Who visited the unit every year even after having retired nearly 50years back. He passed away at 2130h on Monday 29th Apr 2019.
Today 9 PARA SPECIAL FORCES is known to every Indian for the surgical strike, Mandhol Gun Raid, Defence of Poonch, and as saviour of Chammb and Akhnoor And Many other such things.
The country should be greatful to Sub Maj & Hony Capt Guggan Singh for raising such a unit.
HERE WAS A MAN, WHEN COMES SUCH ANOTHER