While India is taking action to hunt down terrorists protests taking place in USA in support of Terrorists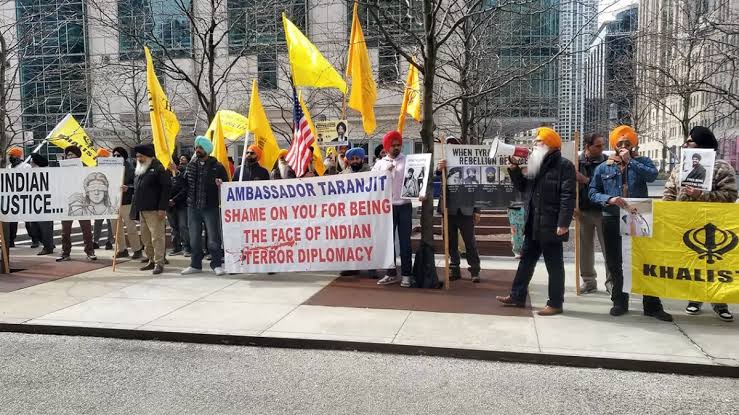 Khalistan separatists have demonstrated in cities like Chicago, Sacramento and New York as India searches for Khalistan Separatist figurehead Amritpal Singh.
Khalistani Separatists buoyed by support from certain section of American politicians,media and bureaucracy, have emerged in major cities like Los Angeles and New York in response to the Punjab State police search for khalistani activist Amritpal Singh.
The demonstrations echo the khalistani effort to spread unrest in the Punjab state of India, where minor disruption have taken place in several Punjab cities, including Ajnala and Mohali. To prevent spread of rumour and break Communications of the terrorists, the State government has shut down internet access as per law. This will help the 27 million people there to have freedom from coercion terrorists.
It should agitate the Grey matter of American supporters of Khalistani terror that 99% Sikhs are for India and don't support separatism. Also 330 million Americans should first clean their own so called democracy before trying to cast aspersions on a vibrantly functioning democracy of 1350 millions.
At an uncontrolled protests outside Indian consulates and embassies in the U.S., a handful of people waved flags and chanted in support of the Khalistani separatist movement to create a nation called "Khalistan," meaning "the land of Khalsa."
Similar demonstrations have also taken place in England, Australia and Canada……all countries who are angry with India for not supporting their unjust actions in the ongoing Ukraine conflict.UK is especially angry because it has been displaced by India from being the fifth largest Economy of the World.
The reasons Khalistani activists are gathering are many. In cities like Chicago and Sacramento, California, they quickly organized rallies to raise voice against India is India's vibrant democracy which has started following its indigenous rule of law, and has refused to bow to any diktats of the West. It will brook no repeat of terrorism and break up of the country. USA and UK have proved to be the biggest violators of Human Right across the World wherever they have intervened forcibly.
Prithipal Singh is a separatist and a terrorist who wants to dismember India. The Americans can keep shouting in his support and become hoarse.
State Police in Punjab are still searching for him, according to Punjab Inspector General Sukhchain Singh Gill. Gill said that the Khalistani activist is wanted on charges of carrying out various terror activities, creating disharmony among classes, attempt to murder, attacking cops and preventing them from carrying out their duties.
Kunarveer Singh, an organizer for the Khalistani advocacy group California Khalistani Youth Alliance, said the diaspora has a responsibility to mobilize.
"We've realized if no one else is going to speak up for us, then you have to do it yourself," he said. "There's no media blackout here. So if they can't do it [in India], we very much will here."
He said that the outrage goes beyond Amritpal Singh and that protesters more broadly oppose India's treatment of minority religions.
"Protests are us in the diaspora doing as much as we can. Sikhs in the diaspora can only do so much on the ground, and that is protesting and making sure that the Western Hemisphere is aware that the so-called democracy of India is not functioning as a democracy," he said.
Kunarveer Singh said protesters would most likely continue to rally until Amritpal Singh is free. Many Sikhs have the last name Singh, and those named in this article are not immediately related.
Harpreet Singh, a Sikh scholar of South Asian traditions and languages and a chaplain at Harvard University, said the activist's popularity is unsurprising.
"Amritpal Singh has been a voice against the drug epidemic in Punjab, and many of the people that have been implicated in the drug epidemic have been part of the Indian government," he said.
Internet services were first suspended Saturday in Punjab, and the suspension was extended over three days, said Namrata Maheshwari, the Asia Pacific policy counsel at Access Now, a nonprofit internet advocacy organization. The suspension was extended in some areas and will continue until at least Friday afternoon.
India has had the most internet shutdowns in the world for the last five years, with at least 84 in 2022, access a new report from Access Now. The group as affecting "a specific population or within a location, often to exert control over the flow of information."
Such blackouts are common tactics for governments but that this one is among the most extensive the organization has seen. India is considered the largest democracy in the world, and she said the internet shutdown goes against those beliefs.
"The ability to exchange information, verify it and communicate freely is essential to journalism and political engagement, and the internet is a crucial medium for exercising the freedom of expression," she said. "Without access to the internet, it is extremely difficult, if not impossible, to report with accuracy and in real time. It also has the effect of stifling free speech and curbing dissent, which is incompatible with democratic ideals."
The above journalists sitting in their air conditioned offices can afford to write such things. Their tunes changes when their own kith and kin start getting affected by terror. India is fighting against terror and will keep doing so. Why doesnt' USA Govt issue mobile phones to their prison inmates in name of Freedom of expression !!!!!
The state has purposely but as per law blocked access in State of Punjab to Twitter accounts for prominent Khalistani figures and oorganizationsand the nonprofit group United Sikhs and the Canadian politician Jagmeet Singh.
For many Sikhs, the recent events have felt reminiscent of the beginning of the 1984 when the terrorists had taken over the State of Punjab and killing Sikhs who opposed them. Bhindranwale had take over the holiest of the Sikh Shrine and finally had to hunted down through military action which caused some damage to t h e Golden Temple complex. Later it led to the assassination of then-Prime Minister India Gandhi by her bodyguards. Her assassination led to riots in Delhi and many other places.