Foundation stone laid for first International Mall in Srinagar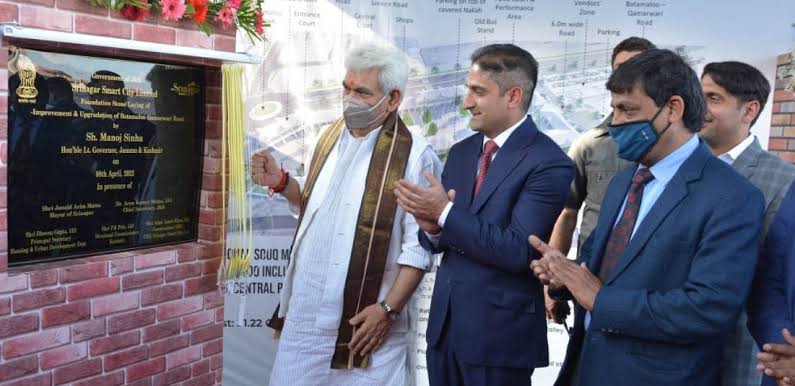 The mall, valued at Rs 250 crores, covering 10 lakh square feet of area, will come up at the Sempora area of Srinagar by 2026. With 500 shops to be set up in it, the mall will have 13,000 jobs
Lt Governor Manoj Sinha on Sunday laid the foundation stone of the first international mall in Jammu and Kashmir. The mall, expected to be the biggest mall in the union territory, will be built by the UAE-based Emaar group in Srinagar.
The mall, valued at Rs 250 crores, covering 10 lakh square feet of area, will come up at the Sempora area of Srinagar by the year 2026. With 500 shops to be set up in it, the mall is anticipated to provide jobs to over 13,000 youth.
The mega mall would include a mall, six multiplexes, a five-star hotel, and a multi-use commercial and residential complex. It is the first significant Foreign Direct Investment in militancy-hit Jammu and Kashmir.
"Today is a historic day for Jammu and Kashmir, as the mega mall's foundation is being laid. It is a proud moment for all of us," said Lt Governor Manoj Sinha before laying the foundation stone of the mall.
He said Emaar group will also invest in setting up IT Towers in Jammu and Srinagar. "The total investment by the group in Jammu and Kashmir is estimated to be Rs 500 Crores". The Lt Governor said the J&K government is working to provide a better business ecosystem to the investors in the UT.
"We have ensured a better environment for the investors. The new industrial scheme is providing investors with the best incentives. No state in the country is offering as many incentives as Jammu and Kashmir is offering its investors. Besides, the cost of electricity is also cheaper here," he said.
Referring to the abrogation of Article 370 by the centre on 5 August 2019, Sinha said there have been a lot of development in the last three years. "Not only has the rule of law returned but we are receiving private investment as well," he added.
He said, in the last 22 months, 5,000 national investors have expressed their desire to invest in Jammu and Kashmir. "Every day eight new investors are being registered. Last month 45 industries were operationalised."
Sinha further said after Telangana, Jammu and Kashmir is the second region in the country to have a women-owned industrial estate, set up in the Udhampur district exclusively for women entrepreneurs.
"There are a lot of possibilities here. People should come and invest here," added Sinha.