India stands like Himalayan wall to Protect Bhutan from China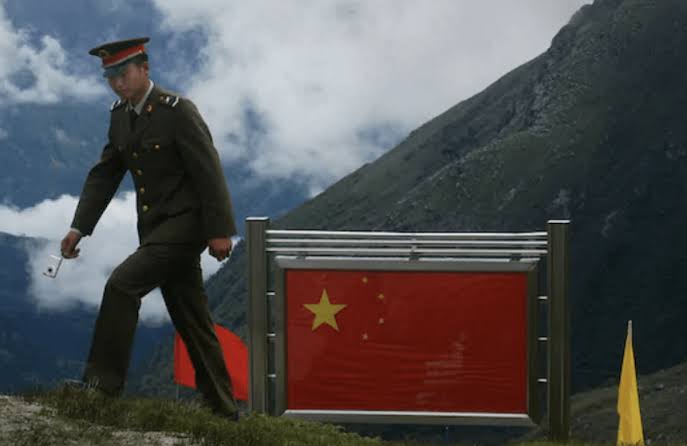 The Kingdom of Bhutan is located on the southern slopes of the eastern Himalayas and situated between Tibet and India. It has maintained close political, economic, cultural and religious ties with India for a long time throughout history. Towards the end of the 19th century even Britain signed a series of friendship treaties with Bhutan. Thus it remains an independent Kingdom akin to Nepal.
After independence, India continued with both the relationship and the treaty and established a special relationship based on equality with Bhutan, guarantying Bhutan's national defence and providing all possible help to its economy, without interfering in Bhutan's internal affairs and foreign affairs by any means.

India's relationship with Bhutan

The special relationship between India and Bhutan is the political basis of India's interactions with Bhutan as a friendly neighbour. It stems from India's desire to carry on with the time memorial legacy enshrined in the Indian culture and ancient history which goes back to Vedic era.

The treaty between India and Bhutan has preserved the national sovereignty of Bhutan from foreign interference. The biggest threat to Bhutan comes from China. After forcibly capturing a country of peace-loving people Tibet, the Communist Government of China begun Eyeing even Bhutan.
The Communist China's PLA first moved towards Xinjiang to subjugate the Uighurs. The PLA entered Xinjiang in October 1949 and with brutal force was able to subjugate most of the vast region by the spring of 1950. Among the major military leaders of Xinjiang, only Yulbars Khan and Osman Batur, kept fighting for quite sometime against the Chinese Communists. They were both finally defeated by the PLA and the atrocities on Uighurs began thereafter and still continuing.
Next the PLA turned towards Tibet. The peace loving people were the forcibly subjugated and His Holiness Dalai Lama the spiritual leader had to flee the Country. At that period of time unfortunately India failed to intervene to protect the Sovereignty of Tibet. However at least the Govt of India gave permission to establish the Tibetan Govt in Exile at Dharmshala.Tibetans continue to face religious and political persecution and extreme Human Rights Violations.
After the attack on unsuspecting India in 1962,the Communist Govt of China even began eyeing Bhutan. However this time India was firm and stood up to ensure that mistake of Tibet was not repeated ever again.
Bhutan is one of the few countries which has been independent throughout its history, never conquered, occupied, or governed by an outside power. From the time historical records are clear, Bhutan has continuously and successfully defended its sovereignty.
Some of the structures in Bhutan provide evidence that the region has been settled as early as 2000 BC. According to a legend it was ruled by an Indian King from Cooch-Behar area, Sangaldip, around the 7th century BC but not much is known prior to the introduction of Buddhism in the 9th century. In the 12th century, the Drukpa Kagyupa school was established and remains the dominant form of Buddhism in Bhutan today. The country's political history is intimately tied to its religious history and relations among the various monastic schools and monasteries.
In April 1774, Bhutan signed a peace treaty with the British East India Company. Bhutan agreed to allow the British to harvest timber in Bhutan.

To ensure the safety of the northern part of the British India, Britain signed the Treaty of Punakha with Bhutan in January 1910. According to the treaty, Britain guaranteed Bhutan's independence, gave the Royal Government of Bhutan more subsidies, and controlled Bhutan's foreign relations. The treaty also affirmed Bhutanese independence as one of the few Asian kingdoms never conquered by a regional or colonial power.

India after gaining independence, too established a special relationship with Bhutan. On August 8, 1949, India and Bhutan signed the Treaty of Friendship with Bhutan. Article 2 of the treaty stated, "The Government of India undertakes to exercise no interference in the internal administration of Bhutan. On its part the Government of Bhutan agrees to be guided by the advice of the Government of India in regard to its external relations." On February 8, 2007, India and Bhutan amended the treaty and signed the India-Bhutan Treaty of Friendship. The new treaty deletes the provision that Bhutan should be guided by the advice of the Indian government in regard to its external relations, and adds content to consolidate and expand cooperation in the fields of economy, culture and education between the two countries.

It is a well established fact that it is the Indo Bhutan Treaty which has stood like a Himalayan wall against Chinese subjugation of Bhutan. Doklam crisis has shown that no matter what, India will not permit any move of PLA into Bhutan. China should not evendream of having any territorial claim over Bhutan. It will be in the Chinese interest that they vacate Tibet at the earliest and thus restore their independence as a free country.
India's security and economic cooperation with Bhutan

The India-Bhutan Treaty provided the basis for India and Bhutan to cooperate as closely as possible in matters ofdefenc3 and security and widely in all feasible economic fields.
No wonder, in 2018, India stopped the PLA in its track near Dokalam when they were planning to enter Bhutanese territory. Next in 2022, Bhutan was provided with Corona vaccine as soon as it was released for the Indians.

India is deeply involved not only in Bhutan's national defense and military activities but also in economic and scientific fields. Bhutan no doubt is very important just like Tibet and Xinjiang as strategic location. On August 28, 1959, then-Indian prime minister Jawaharlal Nehru stated in the Lok Sabha that "the defense of the territorial uprightness and frontiers of Bhutan was the responsibility of the government of India." Nehru stated in the Parliament of India in November 1959 that "any invasion against Bhutan… shall be considered an invasion against India." Had he given a similar statement with respect to Tibet, then it would have remained a free Country even today.

After the Chinese forcibly captured Tibet India became more cautious about safety of Bhutan, building strategic roads in Bhutan and increasing its to Bhutan. In 1962, when the situation on the Tibet -India border deteriorated, India alerted its forces for defence of Bhutan.

India has always remained Bhutan's largest monetary helper. The budget of Bhutan's first Five-Year Plan (1961-66) stood at INR 110 crores and all the money was provided by India. The second Five-Year Plan (1966-71) with an outlay of INR 212 Crores was also entirely funded by India. Bhutan drew up its third Five-Year Plan (1971-76) jointly with the Planning Commission of India, with an allocation of INR 372 Crores, entirely provided by India. The fourth Five-Year Plan (1976-81) cost at INR 935 Crores, of which India paid 90 percent. The fifth Five-Year Plan (1981-86) reached INR 2810 Crores, three-fourths of which was borne by India. This shows that slowly but surely India has been helping Bhutan to consolidate its financial foundation.

In recent years, Bhutan has received around INR 40000Crores from India from 2000 to 2017, making it the top recipient of Indian help in South Asia. In December 2018, Indian Prime Minister Narendra Modi announced a Rs 4,500 crore financial assistance to Bhutan for its 12th five-year plan (2018-23).

India is Bhutan's only transit trade channel and most important trading partner. The India-Bhutan Agreement on Trade, Commerce and Transit, which was first signed in 1972, provided for duty-free transit of Bhutanese exports to third countries. The agreement has been revised five times since then, establishing a free trade system between the two countries. Bhutan trade with other SAARC countries ( obviously less Pakistan ) has also been increasing day by day.

Thus India is Bhutan's most important trading partner both as a source and market for its trading goods and commerce. Since 2014, India's trade with Bhutan has almost tripled from 2014-15 and now stands at INR 12000 Crores in 2021-22, accounting for about 80 percent of Bhutan's overall trade.

India also cooperates with Bhutan on its most important source of revenue, the hydropower industry. A significant portion of Bhutan's hydropower is exported to India, constituting about one-fourth of the country's GDP.


This is what the people of Bhutan have to say on Bhutan India friendship…. Bhutan could not hope for a better time for such an important transition. Today, the country enjoys peace and stability, ensuring its security and sovereignty. After phenomenal development and progress, the country is closer than ever to the goal of economic self-reliance. Bhutan's relationship with its closest neighbor and friend, India, has reached new heights. International organizations and bilateral development partners are ready to support Bhutan's development efforts and political transformation.
Indo Bhutan cooperation in international matters
India and Bhutan closely cooperate on security and economic matters, but India never interferes in Bhutan's internal affairs and foreign policy. In comparison China tries to interfere in internal affairs and foreign policy of all countries to with whom it has provided aid as per OBOR pacts.

Bhutan too has been helping India whenever required. It cracked down on cross-border militancy within its borders when some of the northeast Chinese aided insurgent groups fled to Bhutan and set up camps mainly in the Samdrup Jongkhar District. The United Liberation Front of Asom (ULFA) and the National Democratic Front of Bodoland (NDFB) had exploited these camps in Bhutan to launch guerrilla warfare in the Indian state of Assam. After being hit by the Indian government forces, they used to withdrew to their camps in Bhutan.


Initially the Bhutanese government in 1998 tried to negotiate with the leaders of ULFA and NDFB, hoping that they would gradually reduce their camps in Bhutan and eventually leave the country. On December 15, 2003, Bhutan launched an attack codenamed "Operation All Clear" on the armed group's camps in southern Bhutan with 6,000 troops.

On the other hand, China was not only helping the insurgents but also tried to meddle with Bhutan's election to establish a pro-China party to come to power.
For centuries, Bhutan was a closed country for foreigners. It began to open up very slowly. Today over 50 countries have diplomatic relations with Bhutan, but only India, Bangladesh, and Kuwait have embassies in Bhutan.
However so far Bhutan has refused to establish diplomatic relations with China. In fact wary of American and British interference, Bhutan has not even established formal diplomatic relations with any of the five permanent members of the United Nations Security Council.

New Delhi will simply not permit China to interfere Bhutan and Maldives. Even Nepal and Sri Lanka have come to know the actual tensions of China in garb of OBOR. It will be in the interest of China to settle and demarcate the Indo Tibetan border, the Bhutan Tibet border and China Tibet border at the earliest.
Thereafter Tibet's independence needs to be restored. It will leave China free to pursue its negotiations with Taiwan in a peaceful manner. Delay in this may lead to unravelling of Complete Chinese Empire.