India's G20 Presidency Is a Wake-Up Call for Washington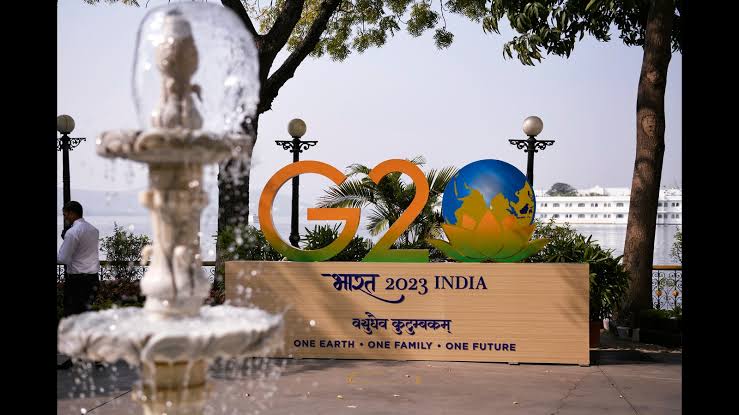 National Interest (March 13, 2023)
While the G20 presidency might sound like yet another fluffy bureaucratic accolade to outsiders, it is a position with some significant bite.
by Georgia Leatherdale-Gilholy
To a few onlookers' surprise, last month's G20 summit in India ended without an agreement on Ukraine. India's tough non-alignment policy sees it continuing to walk a thin line when it comes to the NATO-Russia hostilities over the latter's invasion of its neighbor last year. However, India's G20 presidency presents NATO and the United States in particular with an opportunity to strengthen its ties with New Delhi.
While the G20 presidency might sound like yet another fluffy bureaucratic accolade to outsiders, it is a position with some significant bite. It is the largest multilateral platform in operation, with its member states representing more than 85 percent of world GDP and two-thirds of the human population. While its ability to influence security decisionmaking is lackluster, as the Ukraine debate exemplifies, it has long held a key role in managing talks over future international economic growth.
India is the world's fifth-largest economy (and third-largest by GP purchasing parity), and unlike China, it is forecast to continue to expand into the near future. India is fast overtaking China in terms of population and will likely become the world's third-largest economy and the "pharmacy of the world" before the end of the decade.
Moreover, its ascendancy to the G20 presidency at the start of 2023 has come at a crucial time for the country and the world as it continues to reel from the financial impact of the coronavirus response, itself a knock-on effect of Beijing's malfeasance.
Insiders have suggested that India will attempt to forge an expert group to tackle World Bank reforms in order to provide climate aid to developing economies. While the details of such plans are unconfirmed, they may be a promising step toward countering the exploitative debt diplomacy of China's sprawling Belt and Road Initiative. India has already gone some way toward positioning itself as a voice for the Global South, while China continues to block solutions to the debt crisis crippling the developing world.
India is also keen to launch a Sustainable Development Goals stimulus package to provide low and middle-income governments with a fresh injection of investment support alongside offering debt relief and restructuring. New Delhi's plans to use its G20 presidency to promote renewable energy and action on climate is also promising.
The G20 includes several Asian countries, and India's presidency will of course provide a platform for regional cooperation and collaboration with U.S.-aligned states such as Japan and South Korea. But while there is constant establishment fanfare over established alliances in East Asia, the reality is that the opportunity of such states pales in comparison to what India can offer going forward. It is time the United States looked toward better building new bridges than simply preserving old ones.
With its recently hiked annual military budget of approximately $72.6 billion dollars and battle-hardened armed forces, India is the only serious contender to China in South and Southeast Asia. Border standoffs in Doklam (2017) and Galwan (2020) are just two recent cases in which China has sought to push its luck as regards India's sovereignty, but has been forced to back down.
As former Trump administration defense official Elbridge Colby notes, India is the "rock of the anti-hegemonic coalition in S Asia," and consequently the United States should be doing what it can to strengthen it.
India is the world's largest democracy, and although its strain of nationalism may be at odds with many Western sensibilities, the foundations for a mutually beneficial relationship are far more plentiful than with China, the state the West has tiptoed into trade reliance on for decades. If Washington is keen on a secure future at home and in Asia, it must treat India's G20 presidency as a wake-up call.
Georgia Leatherdale-Gilholy is a journalist based in the United Kingdom. She tweets at @llggeorgia.